>
Plugins

>
General
TrayList 2005
Plug-in that will transform your WinAmp.
Plug-in that will transform your WinAmp.
TrayList is a popular award-winning plug-in for WinAmp that gives you the power of hotkeys, hothits, media organizer, on screen display (OSD) and statistics features. Another great feature is a logarithmic scale to set the desired level of the sound volume and autoplay feature that starts the song right from the place where you exited WinAmp last time.




Download plugin
| | | |
| --- | --- | --- |
| February 7, 2004 by Intellized Computing Group | 321660 downloads | |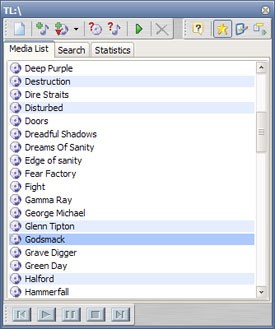 Staff review
Traylist offers a great many features... a truly handy plugin
Jam packed with useful features such as hotkeys, statistics, media organizer, hothits (which allow you to assign specific files or playlists to hotkey comboes), resume track position on startup, etc. The interface is clean and easy to figure out. This is a 30 day trial version with some features disabled.
Comments
TrayList 2005: Warp Drive for Winamp - January 1, 2005: Intellized Computing Group releases TrayList 2005, the versatility-building plug-in for the Winamp media player. For years, TrayList has been the maximizer plug-in for Winamp users, providing customizable media organization and statistics features with on-screen displays through hotkeys and TrayList hothits. Hotkeys manage program operations in an instant, regardless of which application is active, and the hothits feature launches custom playlists by typing in the list number - a few simple keystrokes to bring the music to life. With TrayList?s on-screen display features, users can track all the program functions and see what is currently playing, and customize the transparency settings for the Winamp window, active or inactive. The automatic play option returns users to the specific place in a song where they exited Winamp last, start that song again from the beginning, or restart the playlist, depending upon configuration. These features and more are described at http://www.intellized.com/en/products.shtml TrayList?s greatest strengths are in its statistics and media organization features. TrayList 2005 has been designed to fine-tune playlist creation with Winamp, with a new statistics engine that supports filters so users can sort music on the basis of any criteria: artist, genre, the frequency or time of day a song is most often chosen, and on and on. Partnered with a great statistics engine is the enhanced ?prelisten? mode, so users can sample large volumes of music a few seconds? worth at a time, skip to the end, or skip to the next fragment of a song, evaluating song after song in a playlist in only minutes. - March 17, 2005 by Intellized Computing Group
---
Not impressed though - Nice features like auto resume and play, delete mp3 from disk, etc. However i can also get all these features for free (and better) from other plugins. The mp3 browse interface is the most annoying part. It's confusing and unpractical. I rather have a tree view of all my mp3's. The OSD function doesn't work at all on Win98se and if it does it looks all messed up. The only usefull function i found is to add random albums and tracks. - July 5, 2004 by dario v
---
Super!!! - This is a great plug-in! - April 14, 2004 by Kirill Tapkov
---
too much - This plugin looked really promising but in my opinion has come out with too much options and too little after-thought. I mean..it just comes up as a little tray icon and when you push it you have to wait 10+ seconds and it just sits there animating, with no feedback to the user that it is actually searching for mp3s, at least not the first time around. Also the search function bugged out for me and crashed the whole plugin. Nah, I say this plugin needs to decide what it is really there for and work to optimize those features. Why not split the plugin up in several smaller ones? Also it should be skinned like the other Winamp windows. That's just my 2 cents though, try it yourself :) /Jonas - March 27, 2004 by Jonas Sandman
---