>
Plugins

>
General
Tray Control Mercury
A visual upgrade for Nullsoft Tray Control
A visual upgrade for Nullsoft Tray Control
This is a visually enhanced version of Nullsoft Tray Control. The icons are loosely based on the Winamp 5 Modern and MMD3 skins, and come in 32-bit, 24-bit, 256-color, and 16-color variants.

This will overwrite the original Nullsoft Tray Control plugin. If you wish to revert back to the old version later, backup gen_tray.dll before continuing.

Compiled in VS.NET, and tested in WINXPPRO.SP2 + WA5.093/WA5.1, which means there's no guarantee that it will work on all systems.
Download plugin
| | | |
| --- | --- | --- |
| October 17, 2005 by Jose Olarte | 48697 downloads | |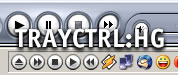 Staff review
Does what it says
Comments
Very good, but only a small but... - Functionality is good, but the next track and previous track buttons are the wrong way round!!! Other than that, looks good, works fine. - January 17, 2006 by Chris Holmes
---
Excellent - Excellent plugin, simple and effective - January 2, 2006 by ajaxx ajaxx
---
ok - but the previus and next butons are the wrong way - November 19, 2005 by Sandar Kleven
---
Its Awesome - Its the perfect for when you are surfin the web and you don't want restore Winamp, then press the buttun, then minimize. It's awesome. - October 27, 2005 by Aaron Casey
---
Good - Definately better than the ugly white ones - October 19, 2005 by �w����� �H��gH����
---