>
Plugins

>
General
TrackMonkey
eEK!@?
eEK!@?
TrackMonkey is an app that sits in your systray, and will send the name of the currently playing track to a script on a remote webserver, which can then be used for various purposes, e.g., displaying the name of the currently playing song on your website. Official site at http://www.oddbox.org/~gabe/
Download plugin
| | | |
| --- | --- | --- |
| November 29, 2001 by John Doe | 6685 downloads | |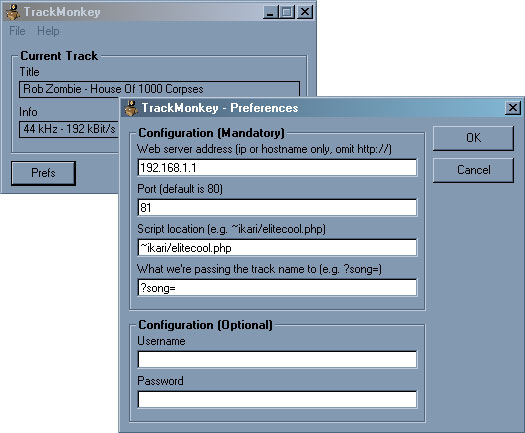 Staff review
Send track info to remote server
Fairly easy to set up and configure... sends the info of the track currently playing in Winamp to a remote webserver. Plus it has a fresh monkey logo.
Comments
Best solution, if your site does CGI or PHP - Seems better than the DWG plug-in, which has the exact same function. The output of this is more consistant between songs (no superflous crap or random tagged-on text or numbers.) Novice coders (like me) may find it useful to use the DWG Perl script as a template, as none is provided with TrackMonkey --USABILITY NOTES-- ((((i)))) in the plug-in, enter the server URL in the format "www.mysite.com" not "www.mysite.com/" ((((ii)))) the script location is in the format "cgi-bin/update.cgi" ---HOW TO FIX MSinet.ocx PROBLEM--- I got an error in Windows XP, searched for "MSinet.ocx missing xp" on Google. Downloaded it into C:\Windows\System32 and all was fine. The URL I used was http://audax321.tripod.com/download.htm - August 5, 2002 by Bob Someone
---
Exactly what I need! - Aha! I've wanted something like this for a while, but never wanted to sit down and write the binary portion of it. Now I can have a dynamic "what i'm listening to" on my webpage, or AIM profile! Only thing i'd change: sends ID3 fields, or something? It's kindof limited to the current title. Only gripe. Great stuff here, for those who are leet. - July 12, 2002 by philihp b
---
No worky :( - It's exactly what i wanted. But its not working in XP Pro. MSinet.ocx not registered blah blah blah... :( - May 13, 2002 by Rob Hall
---
lymco - lymco - November 30, 2001 by zak beam
---
I can't stop shaking. - Using this product gave me bowel cancer and made my mother a cripple. Damn you to hell, you son of a bitch. - November 30, 2001 by Matt X
---
I hate you Milkman Matt. - Shouldn't you be off drowning your sorrows in Victoria Bitter? - November 30, 2001 by John Doe
---