>
Plugins

>
General
TouchTone Audio System
New version 1.2.1.2 w/ added features! Full-Screen Jukebox Interface
New version 1.2.1.2 w/ added features! Full-Screen Jukebox Interface
The TouchTone Audio System software v1.2.1.2 is a Winamp (v2.8, 2.9, or 5) full screen interface specifically designed to transform your PC and tagged music files (mp3, wav, ogg, wma, or m4a) into a touch screen compatible, high-tech jukebox. Features include: An on-screen 'song search' keyboard, resizable text, multiple playlist levels, various track selection methods, complete color and font customization, 'Party Play' mode, custom reporting, album cover support and more! 30-day trial version with a 300-song limit. Register at www.mp3touchscreens.com/register.
Download plugin
| | | |
| --- | --- | --- |
| April 24, 2003 by Riptide Innovations | 54333 downloads | |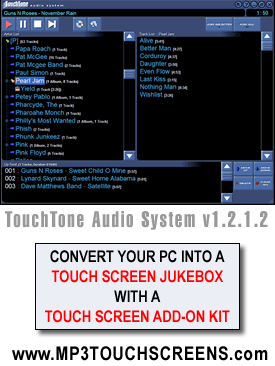 Staff review
Touch Screen juke box interface
You'll need a special touch screen monitor for this to work. Also has Mp3 file management features for those who don't have the proper monitor. Decent search features and interface, although, there are better apps out there for strictly organizational purposes. I personally don't have a monitor to test this out on, but, the idea sounds cool.
Comments
It's a Jukebox first... touchscreen use is a PLUS! :-) - I've been using TouchTone for some time now, and it is a simply great way to PLAY your music. The Touchscreen control is a lovely feature, but it still works perfectly well with mouse and keyboard. Basic level: random play (from a filtered selection if required) Selection: pick a track - it's next in line. Pick several and they queue up like a jukebox Stacker: Create a "cartridge" of your favourite albums, genres or whatever and random play from those (but you can "Select" anything at any time Playlist: Does what it says on the tin These "levels" of use means TT can be as "automatic" as you want it to be, and it's easy to change up and down a gear. It's also worth mentioning that the main programmer plays an active part in their user forum, and features suggested there do find their way into newer releases. And of course it uses WinAmp to actually play the music - y'can't fault that! :-D I would seriously recommend checking TouchTone out as your music player "front end". - June 16, 2004 by Steve Jewess
---
Good program. Clunky, but good. - Touchscreen is awesome. Much recommended, for all your apps... Program works great but has a somewhat clunky display (needed for touchscreen accuracy). Another option is to buy the touchscreen and use Winamp's classic skin doubled up in size. Pretty ugly, but until you're comfortable with the setup, you save 25 bucks. If you're going to set it around the house as a music kiosk, like I did, well, spring for it!!! - May 21, 2004 by alexis valencia
---