>
Plugins

>
General
TabSniffer Plugin
Version 2.0
Version 2.0
It's a Winamp Plugin designed to find guitar tabs on the internet while you are listening to a song! No more searching the internet for tabs, simply play a song in Winamp and TabSniffer will find the tab for you! Now Supports "Artist Guessing" so that your mp3s don't have to be id3 tagged.
Download plugin
| | | |
| --- | --- | --- |
| July 21, 2003 by Matt Campanile | 13682 downloads | |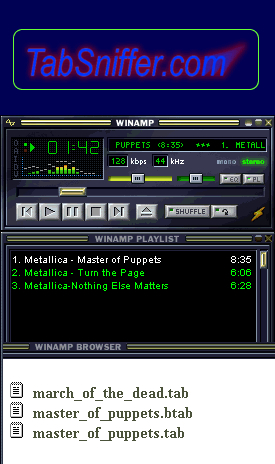 Staff review
Find guitar tabs while listening to music
Convenient tool for guitarists; displays guitar tabs for current song in the mini browser window. Updated with 'artist guessing' support, so, your mp3's don't necessarily need to be id3 tagged.
Comments
pikkipowpow - Hi GuysI haven't tried tabsniffer, so im not sure if it works or not.if it doesnt, why not try pikkipowpow.davidsmit.za.netyou need winamp 5.5 or greater for it to work though - July 20, 2009 by David Smit
---
Doesn't Work!!! - It is such a brilliant idea, I was heartbroken when it didn't work... PLEASE someone make a plug-in that will do what this was meant to!! i'll probably pay u some money if you did as well :-) - March 17, 2006 by Nathy Dogg
---
doesn't work - www.tabsniffer.com is not working any more, this plugin doesn't work :( - August 4, 2005 by Stevie Robinson
---
problem installing - It sounds good but, I cannot install it in winamp 5.08 - April 26, 2005 by Rodders Alvarium
---
WOW!!! - You are my hero!!!! - October 2, 2004 by James Landon
---