>
Plugins

>
General
Statistician
Plugin collect info about all playing files in Winamp
Plugin collect info about all playing files in Winamp
If you want to look up at your own top list or hit parade this plugin is for you!!! There are many settings and only what you need to see you top ten click to tray icon or to small red button at the left of Winamp TitleBar. made in Russia 2003 by Andrey Bayramov. freeware. now v3.0
Download plugin
| | | |
| --- | --- | --- |
| March 19, 2003 by Andrey Bayramov | 5170 downloads | |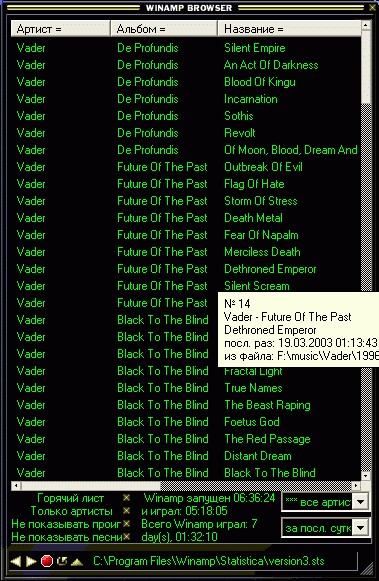 Staff review
Now what was I playing?
Wonder no more, this plugin will tell you.
Comments
Good Work! - Nice one, has some unique options. Could be more flexible on the seconds from when a song is counted tho and unicode support would have been nice. Overall a good job tho. d:] - April 5, 2007 by Abi S.
---
works well - This thing works well and does what it says, but the "real time" stats update kept using 20-30% processor power at all times. not a big whoop unless you do lots of processor intensive stuff (which I do) - August 1, 2003 by Josh Kostelecky
---
We've been waiting for this! - This plugin is what I've been waiting for for quite a time, and it is the improved version by the guy that made "Statistic2". It is smooth, it is free, it does what it has to do and all the options you might want are included. No more "Wonder what I listen to mostly" or "What can I delete that I don't like anyway?" Thanks a lot! - March 24, 2003 by Peer Teer
---
strange - Why rating of old version was higher that for that new??? anybode here can tell me??? - December 19, 2002 by Andrey Bayramov
---