>
Plugins

>
General
Sneaky Amp
Controls Winamp from within other apps
Controls Winamp from within other apps
This handy little thing will allow you to control Winamp by just typing a few commands into the keyboard. Handy for alt-tab unfriendy games and such. Version 1.0, finally...
Download plugin
| | | |
| --- | --- | --- |
| October 31, 2000 by Joe Bott | 36259 downloads | |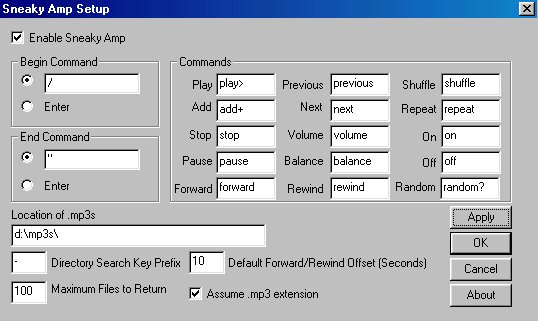 Staff review
control winamp from some other applicatio
Cool plug in.This MUST have taken a while to create. A browse window for the mp3 directory would be nice. Also, the text input can interfere with the other program you use. Still very cool. Can really come in handy when playing games.
Comments
It really is sneaky! - It does exactly what it is supposed to. I could use it while any program was running to control winamp. However, it does more than that. With this plug-in installed, it takes nearly 5 minutes for winamp to load. It seems to scan the drive, and works with files like pictures, movies and music. All of those files are considered in use, and only restarting or finding the process to end will let you move or rename any of those files. I haven't found a plug-in that works just as well, but for the sake of having winamp start up as fast as it should and being able to work with my files while winamp is running, I'll live without it. - August 19, 2005 by John Van_Valkenburg
---
Smashing Script - Having used winamp for a LONG time I can say, its one of the most usefull scripts I use My winamp wouldn't be complet without sneaky amp :) thanks Joe bott! - September 14, 2003 by Peter Alsing
---
great program - Do you like to game and listen to music? because this is awesome for controlling your music while gaming at the same time - January 11, 2003 by austin vicars
---
This is an extremely useful program! - I just have to say that this is must be one of the most useful plugins ever made. I had some trouble figuring out how to make it work, but now it's working like a charm. A simple feature to add all the files in the mp3 directory to the playlist would be nice, but I can live without that. :) - May 2, 2002 by Eivind Thomassen
---
great job!! - Works great within Half life and Counter strike and I am sure within other games. Gives you control over all functions that you need. Very very cool even better than using the original interface since you can build playlists on the fly using keywords. Congrats Joe Bott! - January 29, 2002 by Hakan Erdogan
---
O Yeah - Would give it more stars if I could. - January 23, 2002 by James Lyons
---
I've been using this for a while - I've used it for over a year now. I originally got it for using WA in Everquest. I don't play EQ much anymore, but I still use SneakyAmp all the time. It's the EASIEST way to create a Play List on the fly. One thing to note: Select the NullSoft DirectSound plugin as your Output plug-in, if you want Winamp to play properly inside of games. - October 27, 2001 by Dan Martin
---
Why isn't this bundeld with winamp? - This is a real must-have, it should be implemented in winamp. - June 17, 2001 by Roel Brook
---
A MUST!!! - Works well in Unreal and all game which can run under Windows 9X and works with all sound cards which are DirectX compatable Mute the crapy repeating Game music and replace with your own playlists - May 3, 2001 by Stewart Wood
---
This works GREAT - 4 stars because it works great, but I think it could be improved upon still and given more features. This is the best plug-in for anyone that plays games that take over the screen. It is a must have for EverQuesters 8) - April 2, 2001 by Nick K
---