>
Plugins

>
General
Resumer
Saves state of Winamp every X seconds and resumes on startup
Saves state of Winamp every X seconds and resumes on startup
This plug-in can be configured to save the status of the EQ, currently selected playlist song, and position in the currently playing song every X seconds. This information can then be restores when Winamp restarts. This is highly useful for my car MP3 player. Full source is included with this plug-in.
v1.1 - this version has been modified so that it no longer resumes unless the song it's about to resume is the same one that was playing when it last saved information.
v1.1b - Fixed a buffer bug.v1.2 - Fixed a bug and added a feature allowing songs to be resumed from the beginning instead of where they left off.
Download plugin
| | | |
| --- | --- | --- |
| April 2, 2002 by Eddie Mansu | 120720 downloads | |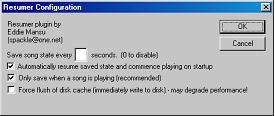 Staff review
Allows you to resume previous state on start up
Cool plug-in.... allows you to close Winamp during a song and have it start up at the exact same point. Similar to car cd players. Check it out. Updated version with bug fix.
Comments
Great, but why not safe just on exit? - Great! Missed this option in Winamp for some time, but was too lazy to search for plugins up till today ;-)First thing it tried when had installed this plugin, was if it would safe on exit. Why safe every X seconds, why just not safe on exit?First look at the source code seems to indicate that the code for this option is there, so let's enable it I would say! :-)Cheers,Guido - February 19, 2008 by Guido
---
An oldie but a goodie - Been using this since it came out and probably always will! - July 20, 2007 by Paul Curran
---
Must have feature - I was looking for resuming functionality and will use it a lot to listen to podcasts at home. The plug-in works quite well. The only functionality I'm missing (i.e. I would like to see it in the future versions) is saving on pause. I want to make sure the position is saved on pause (and/or - on Winamp close, which is less useful to me) regardless of an auto-save interval, because what I do when listening to podcasts is pausing them, and then I might shut down my computer. Currently I set "Only save when a song is playing" = off to make sure it is saved and interval = 10 sec, but, as mentioned in the doc, it is a bit pointless to save the same position repeatedly and my Winamp could be left on pause for a long period time. This functionality would be probably more useful to me even than auto-save itself. - December 29, 2005 by D K
---
Problems with WinAmp 5 - I have problems getting this to work with WinAmp 5.08. It restarts the song at the begining, but refuses to resume it at the last time played. This, of course, ruins its use when playing audiobooks. I'll be 2 hours in, shut down, restart, and it'll put me back at the 00:00 mark. Suggestions? - January 9, 2005 by Bill Gates
---
Simple and Useful - Nothing to comment except this works fine! - October 21, 2004 by Rodolpho Brock
---
Great! - This does exactly what it says it's supposed to do. I'm not sure if it saves the playlist state though, I still seem to hear the same mp3's over and over... I guess that'd be a job for another plugin? - September 27, 2004 by jeff mcmillin
---
Simple and stable - Does what it's supposed to do. Works perfectly. Me happy :) - July 5, 2004 by dario v
---
Excellent - Just like in my car!! Winamp keeps playing from exactly where it left off! - March 5, 2004 by ivory kitten
---
Excellent - Works like a charm. When you're x minutes into an audiobook and the computer crashes this plugin will take you right back to where you were. - October 31, 2003 by Neil Gregory
---
Not a bad idea but... - Winamp 2.91 does this now so they sort of shot you in the foot. Maybe you can claim points for inspiration. - June 22, 2003 by Howard Harvey
---
the best - After installing WinAmp 2.81 gen_Trans works with Resume v1.2 plugin. The problem for me might have came from the old version of WinAmp v2.80 or it just need reinstallation. Whatever the case both works together perfectly now. Great plugin. - December 16, 2002 by Donald Lee
---
A must have. - >This is good. But (sorry Mr Mansu) BlueCave Winamp >Slider is better. That also does the same thing, but >only saves the info once (and not every X seconds) - >when you close winamp. Yeah, when you close winamp... but this one prevents even those system lockups ^_^ Well, I haven't tried that other one, must try out it too... - July 7, 2002 by Jan-Erik Labbas
---
Too good!! - Gone are the days when winamp crashes and I lose all new additions of my playlist, gone are the days when I have to trawl through all my mp3's to find the ones that hadnt saved and re-add them, gone are those days all thanks to this wonderful plugin!! too nice... - May 13, 2002 by Novex Designer
---
works perfectly - I have been using this for a year or so. works great. - April 26, 2002 by Marc Friedman
---
nice!!! - very cool plug in - February 11, 2002 by Michael Hession
---
Exactly as advertised - There isn't much to review. It does its simple job perfectly. - February 8, 2002 by Rafal D
---
a must have!!!! - perfect ! installed by default ! Loved by FR people..and all over the world too Congratulations - January 28, 2002 by WAFR WAFR
---
Most Practical Download - Awesome! Out of all the plugins for Winamp -all I really want is for my Winamp never to stop, even after a reboot (in startup menu) - just keeps going even with streaming songs. - January 26, 2002 by Steve Barkey
---
wow - this plug-in is real cool - January 14, 2002 by bart schaap
---
Cool - very cool - October 21, 2001 by Ben Vonk
---
WooHoo!!!! - I have been waiting a long time for something this cool..... Thank you, Thank you.... - July 19, 2001 by Dieter Lundquist
---
FANTASTIC! - I'm building a car MP3 player, and this plugin is PERFECT - I'm also using it on my home PC - BRILLIANT! - June 16, 2001 by Mike Gorton
---
Finally something for my poor comp - Hey there! This ones great! As my comp just LOVES to hang up inexpectedly, i keep losing settings everywhere. Not in winamp anymore :) - June 6, 2001 by Mattes Dolak
---
haha - okay i dont know what im doing with this.. but rock on! - May 21, 2001 by Alex Palex
---
AWESOME PLUGIN.. WORKS LIKE A CHARM - if youw anna see how i use this go to : www.geocities.com/danielsoh74 you won't regret....i promisse =) - April 14, 2001 by Daniel Soh
---