>
Plugins

>
Output
Remote WinAmp
A plug-in which allows remote audio output via Winamp on a Win2000 terminal server, and local UI control thru ts client
A plug-in which allows remote audio output via Winamp on a Win2000 terminal server, and local UI control thru ts client
The default security of terminal server does not allow remotely controlled applications to access the server's audio card. Installation of this plug-in allows access to the audio card by installing a service process which runs in the non-terminal server security context. The out_ramp.dll plug-in then remotes all Winamp stream data to the service for audio output. You can configure the out_ramp.exe service to output the audio via any Winamp output plug-in.Note: to install the plug-in, you must be logged in as a user with administrative access.
Download plugin
| | | |
| --- | --- | --- |
| August 29, 2001 by Craig Link | 55597 downloads | |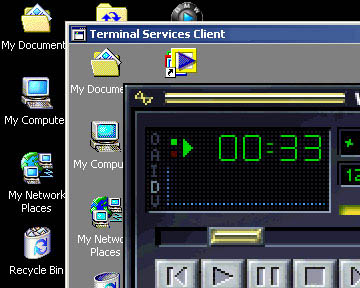 Staff review
More power to controlling Winamp by remote access
Allows for for remote access to audio card...so you can configure output via any Winamp output plugin.
Comments
Great idea - i used the terminal server client to log into my vocational class and not having sound can be very irritating. This is especially true when he has 160gigs full of great mp3's. Alternate methods to play this music ment to: `first run my ftp server `login into the ftp site via tsc `put song on ftp site via tsc `and then finally play the song This took to long. thanks for the great program and keep up the good work ps wondering if this will also work for vnc which i have on my computer if not i hope ur future plans will allow it thanks again. - August 1, 2002 by Brandon Boss
---
um...yeah - keep getting errors when trying to use it... (installed it as per readme.txt)... this is the error.... a device id has been used that is out of range of your system. doh...and i was SO hoping this would work - February 13, 2002 by Steve Mc Manus
---
Wonderful Idea - I've always wanted this kind of functionality as a terminal service, but unfortunately most of use do not have a copy of Windows 2000 Advanced Server (including myself) with which to use it. The only fault of this plugin is that it requires Windows 2000 Server, a $1200 piece of software, but I guess that isn't really the plugin's fault. For those of you who don't know what it is: Under Windows 2000 Server, the admin can allow remote computers (terminals) to use a virtual desktop that runs on the server but is displayed on the terminal. Unfortunately Windows 2000 Terminal Services don't allow sound from winamp to be sent across the network, so this plugin fixes that. So: anyone who runs a Terminal Server can hear their beloved winamp far away from any windows 2000 machine. - January 18, 2002 by Mukido hime
---
What does it do? - Haven't tried it yet but, if you guys (Sam Gibbs & Duo Maxwell) don't know what a Win2k Terminal Server is... You don't need it! - October 25, 2001 by Nigel Jones
---
Yes, what exactly DOES it do??? - How are we 'simpletons' supposed to understand what that load of gibberish means, i read it three times and the only thing i can think of is that this is some kind of network utility... lil' help please? - October 21, 2001 by Sam Gibbs
---
What does it do? - hey i have no idea what this plugin's even for but the thing told me to "say something quick before someone else gets to it first"...and so here i am...writing to you...the general public...on my opinion of a plugin that i have no earthly idea what does...isint that great? - October 14, 2001 by Duo Maxwell
---