>
Plugins

>
Output
Remote Speakers output v4.0
Stream audio from Winamp to AirPlay/AirTunes devices (AirPort Express, Apple TV, etc.)
Stream audio from Winamp to AirPlay/AirTunes devices (AirPort Express, Apple TV, etc.)
Streams audio to one or more AirPlay/AirTunes devices, over wired or wireless networks. Synchronizes audio streams between multiple devices. Supports full set of playback operations (play, pause, stop, seek, skip, etc.). Plays multiple tracks with no gap between tracks. Supports password-protected remote speakers. More information, FAQs, latest version, source code and registration details at http://emilles.dyndns.org/software/out_apx.html - v4.0 adds full AirPlay support, including displaying track metadata (title, artist, album, artwork, progress).
Download plugin
| | | |
| --- | --- | --- |
| January 26, 2011 by Eric Milles | 35903 downloads | |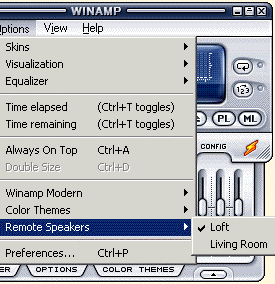 Staff review
Approved
Untried and not tested. Please submit your user review. Check the author's site for more information.
Comments