>
Plugins

>
General
QuickTunes
Generates random playlists from your library.
Generates random playlists from your library.
QuickTunes creates random playlists from the tunes in your library based on your preferences.

Now updated to version 1.2! New features include the ability to choose songs by rating, the option to delete the current playlist, and an option to automatically select a new playlist when WA stops playing.
Download plugin
| | | |
| --- | --- | --- |
| July 14, 2004 by Noumenal Software | 106930 downloads | |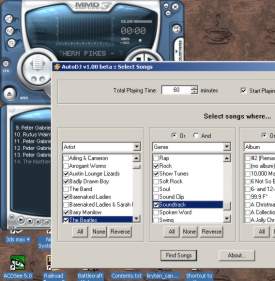 Staff review
Very handy playlist randomizer
Very straightforward and easy setup allowing for quick and effective random playlist generation. Works excellent for when you are having one of those days where you can't decide what to listen to. Important note: QuickTunes works off of your Winamp Media Library database.... so, make sure to have songs added to the Media Library before configuring QuickTunes.
Comments
i love it - I love this plugin! It is really useful and a great way to rate my mp3s and to create awsome playlists! - February 23, 2009 by adam ferguson
---
Exactly what I needed! - I really like this plugin. I've got a massive, widely varied music collection and a tiny MP3 player. Grabbing songs completely at random to load the player sucked b/c there's a lot in my collection that I know I won't want to listen to in the places I use the player. Picking specific content for the player sucked b/c it's time consuming and I end up listening to the same stuff over and over. This lets me quickly define a subset of the collection and then randomly pull from that. Just let it build a playlist and then export that to the player.Did run into one problem. A batch of songs in my collection was missing some info (genre, album name, etc). That seemed to cause the plugin to crash Winamp when it tried to build its criteria lists. Once I populated all the blank fields in the library, everything ran smooth as silk. - November 10, 2007 by Chris Vuocolo
---
This is what I was looking for... - ...but after installing the tool it only made my Winamp crash repeatedly. A help forum or something like that would be useful. I have various plugins installed with my Winamp 5.35 so I would really like to find out whether there are known issues in respect to incompatibility with other plugins. For now it seems I'll have to deinstall it.Crap. :o( - August 22, 2007 by az frankie
---
Perfect Randomizer - I like this tool. Only one thing is missing.. It forgets all selections :-( But it works if you add the following path in the registry: HKEY_LOCAL_MACHINE\SOFTWARE\Noumenal Software\gen_quicktunes - November 7, 2006 by chef chef
---
Wonderful - This is a fantastic program, my only complaint is that I wish it had the option for "year" in the dropdown... it would make it much easier to put together radio shows / playlists... ie: trance tunes from 1995 or punk songs from '02-'05 cd compilations, etc. - May 24, 2006 by Allah Mustafa
---
badass. - easy to use... makes the arduous task of going thru my 50,000+ collection much easier when i have little to no creative juice for queuing. and i'm a picky b too ;) - September 7, 2005 by Kelly Brown
---
Kinda sorta... - This is kinda sorta okay, but I presonally don't like it. - November 20, 2004 by Alex Lowe
---
Very Nice - I've been looking for this for a while. Was a simliar feature built into Music Match Jukebox, which I loved. Interface is simple, program is quick, does exactly what I needed it to do: Generate a random playlist for me. Kudos to the programmer, great job! - October 23, 2004 by Scott Schaefer
---
Brillian! - Very usefull plugin Only problem, it doesn't work very well with video files :( - Ben - October 19, 2004 by Ben Dickson
---
alright... - ok so this plugin CAN make random playlists. and it does it well. instead of taking up even more room on your comp, wouldn't it be easier to turn on the shuffle option? lets think... - September 25, 2004 by Mao Mao
---
Very well done. - Basically a random playlist generator with the additional options to limit your playlist to certain artists, albums, titles or genres. Not sure why one would bother to limit the playing time, but you have that option too. Unfortunately, it will not sample your music to find similar stuff like Music Magic Mixer claims to do (mental note: got to get round to testing that soon), so your music needs to be well labeled and catalogued. Or else you won't get any benefit from this program. The function of this program isn't something you couldn't perform manually, since the WinAmp media libray can display your music according to any parameter present in the ID3 tag (artist, album, title, etc.), plus stuff like ratings, last played, number of times played. But the program does give the added option of coupling any 3 ID3 parameters in an "and/or" search pattern to find your perfect mix. Stable, simple, runs clean. Removes itself from the system tray when WinAmp is closed. Freeware. - July 21, 2004 by Jeffrey Teo
---