>
Plugins

>
DSP/Effect
PushTec
6-band midrange & program EQ
6-band midrange & program EQ
The Leftover Lasagne PUSHTEC 5+1A is a 6-band midrange & program EQ. The algorithm behind the simply stunning user interface is based on a circuit schematic of one of the most sought-after vintage analog EQs - well, two to be exact. We combined a superb program EQ with a rare midrange EQ to end up with a very flexible all-around tool for your mixing and mastering sessions.
Download plugin
| | | |
| --- | --- | --- |
| October 4, 2006 by Christian Budde | 197482 downloads | |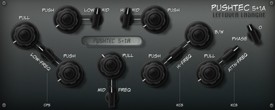 Staff review
The reference to pasta in this was a bit weird but this has a good clear UI and is easy to start tweaking. I think you need to know what you're doing though to get the best out of this (which does come with a large number of predefined settings so is enough as a basis). A large dll/installer but the effects worked well so not something to hold against it.
Comments
CAUSES RUNTIME ERROR 216 at 7dd749ad when choosing plugin configuration on Win7 64bit... - March 24, 2011 by [email protected]
---
Awesome stuff. If u use it for decent adjusts, it will serve perfectly. Someone said, it hasnt saving profiles. Just read manual dude. It has just everything u need. And its for free. Like i said: AWESOME. - November 11, 2009 by pulDag
---
Really nice but.... - The settings aren't saving... when i close and reopen winamp, settings go back to default. Any way the settings could be stored in some sort of inf file so it would be easy to share new settings? - May 6, 2009 by z0iid jo
---
jose - es genial - August 18, 2008 by JOSE ROCHA
---
nice sound - nice sound.. very nice..but it seems it cannot save my own theme.. - October 27, 2007 by Abi Arditya Darmapradhana
---
Almost exactly what I'm looking for... - ...but not quite. I was looking for a 3- or 4-band full-parametric eq, which PushTec exceeds, but laid out graphically more like a professional soundboard.Starting from the top: preamp cluster of hi-freq controls cluster of hi-mid controls cluster of lo-mid controls cluster of low-freq controls VU meter with clip indicatorEach cluster made up of three knobs/sliders: center freq Q (bandwidth) gain (+/- on the same control)A 3-band version would combine the two mid clusters into one with a wider range of center freq.As you can see, PushTec comes VERY close to what I'm looking for, but if someone can just put that "analog soundboard" UI on it, that would be even better!- Bill Smith (never mind what the forum adds - I got over-jealous with my anti-spam habits when I registered) - October 3, 2007 by Firstname Lastname
---
23.09.2007 - Simple end GoooD! - September 23, 2007 by Lipold Julien-Robert
---
Ownage - Probably the best dsp plugin you'll find here. I've been using it for months now and don't intend to change it. Might be a bit more difficult than most others in the beginning, but once you figured things out you'll love it d:] - March 29, 2007 by Abi S.
---
Plugin got updated - Just want to let you know that there is an update available which allows to save the last configuration. I'm unsure about how to update it correctly. If everything worked well this comment can be deleted along with the other bug report! - January 28, 2007 by Christian Budde
---
Worth to use it - Pretty impressive tool. Give it a try. Pick Gladys Knight & the Pips - Midnight Train to Georgia and switch between Default and PushTec Radio or Smooth Lowcut. Combine it with A+/B+ Analysis Tool for a pretty good sound. - January 1, 2007 by Axel Larator
---
Not a fan of this plug in - I personally thought the plug in wasn't that bad. The tweaking was tedious but i finally found a good combination: until I discovered that the plug in DOENS'T SAVE YOUR CONFIGURATIONS everytime you exit out of winamp!!! So don't waste your time trying to figure out how it works if you ever plan on closing winamp again - December 14, 2006 by Scott Scott
---
Good design allways wins - It's a great "little" thing, well designed, that does the job, however it really does recuire a that instructions manual, for a beginner. So, not verry intuitive. - October 29, 2006 by Vip Vip
---
testing baby - hell yah - October 23, 2006 by steve stonebraker
---
Great FX - It just took few minutes to tune and find out what each knob does. It can soften the bass of my 6" sub just the way i like it, similar to the low pass filter effect on subs. Great plug in and it's worth the download. Maybe some size options might be great future (unles i missed them somewhere) - October 21, 2006 by Miata Freako
---