>
Plugins

>
General
pureLYRICS WinAmp Plugin
Views lyrics of played song in WinAmp minibrowser
Views lyrics of played song in WinAmp minibrowser
pureLYRICS WinAmp Plugin enables You to view lyricsof a song currently playing in WinAmp. At the momentthe database consist of more than 40000 songs andseveral hundred lyrics are added daily by users.There is possibility to add and correct lyrics Yourself.Also, several language packs are available for the plugin.For more information:http://www.purelyrics.com/plugin/http://www.purelyrics.com/
Download plugin
| | | |
| --- | --- | --- |
| August 17, 2001 by PureLyrics Plugins | 67248 downloads | |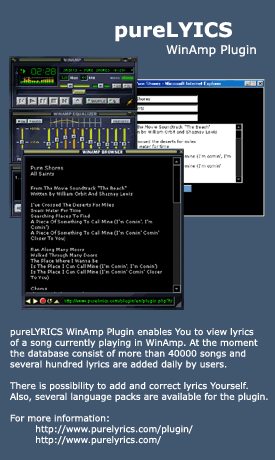 Staff review
Learn the lyrics to your songs
Handy plug-in that displays the lyrics to your mp3 files in the Winamp mini browser. Just make sure that you have your mp3 files tagged with artist/track info.
Comments
woooow.. cool! - second thought: I don't know how use it! .-. - July 19, 2008 by irene irene
---
Candombe a Mucho Palo - Mucho Bueno - June 19, 2004 by Alexandre Gabiatti
---
Displays a link full of pop-up ads - The browser doesn't display any songs on KJR's playlist (over a thousand pop-rock titles). It only displays a couple of links in the minibrowser, and then infects the computer with pop-up ads. - September 16, 2003 by Jonathan Wooldridge
---
I'm sorry I use it - It didn't show tha lyric at all! It just showin louzy link to it site. Do we have to online to see tha lyrics? N does it gotta b English? How bout Japanese that I love s'much? I hate this stuff!! - June 24, 2003 by Armalani Iswandani
---
It worked... - It does not now. Prefer Lyrix. - July 31, 2002 by Manu Devil
---
not working for me ;_; - it's nto working for me, and i can't get any tech support whatsoever from you guys. =? - July 27, 2002 by Valerie K
---
It used to be great, now it sucks! - The older version was better. Now it opens your browser instead of displaying the lyrics in your WinAmp mini-browser. Is there anywhere I can get the old version? - April 22, 2002 by Christopher Zemke
---
this sucks - all the damn thing does is give me a link to the stupid webpage, if i wanted to do that i'd search for the lyrics myself - February 3, 2002 by Mister Deerslayer
---
Oh! - Hey, i admit that this plug-in is great, but scince they did some sort of update, when you play a song, the minibrowser only displays the song name, a link to "View Lyrics" and another link that says "pURElyrics".. and it doesnt display the lyrics ! you have to open a new window and then find them !! grrrr its really anoying cos you have another window open... the old purelyrics was better ! change it back pleaseeeeeeee - January 18, 2002 by CraSh Zer0
---
Good, just wish it didn't open the Minibrowser if it is closed. - I like it, but I hate having to turn it off to keep the Minibrowser closed. I don't often have the space for it. - November 27, 2001 by Dan Martin
---
AWESOME! - This is the greatest thing eva! - November 6, 2001 by Karen E
---
Hmmm... - Used to be an excellent plug-in but for the last week it has not been working (403's on all the pages). Repeated requests on the purelyrics forums has not got us any answers :( - October 30, 2001 by Leila Marimuthu
---
it would be great if it supported tagged lyrics. - . - October 7, 2001 by lili lee
---
Almost Perfect - there are some songs that it doesn't get. althougt it's the best of all the lyrics displayer on winamp.com a must have - October 4, 2001 by Guido Gutierrez
---
Awesome! - I really like it, and the database is huge and growing. Good Job! - September 27, 2001 by enkrates enkrates
---
this is awesome! - This is a great plugin that really works. Contains huge database of lyrics, and is increasing everyday. Great for people who are always connected online. - September 20, 2001 by r b
---
SWEEEEEEEEET!!!!! - This is an awesome addition to ones WinAmp! It installs like butter and works outta the box! This is what WinAmp has been lacking for a long time! This one that will stay with me a LONG TIME! AWESOME! - September 10, 2001 by Dream N Evil
---
GREAT - wow! its great for getting lyrics! - August 28, 2001 by Noel - ?\_/?\_/
---
95 % SucceSs Rate - No Need to Search for lyrics, this plugin Connects to the pureLyrics database with over 40,000 Lyrics...You'll get more hits with popular tracks...although I'm throughly satisfied with it :-) You can upload lyrics too...although if they assoicate an option to read embedded lyrics as well. I guess it'll be PEREFECT then. I guess the whole purpose of connecting to that pureLyrics databse is so we won't have to copy paste or TYPE those lyrics in the first place. Truely Unique & very useful :-) - August 24, 2001 by M. M.u.Z.a.M.M.i.L. S.
---
it crashed my winamp - DO NOT DOWNLOAD THIS IT CRASHED MY WINAMP HERES HOW MANY STARS U SHOULD HAVE NEGATIVE*********************************************************************************************************************************************************************************************************************************************************************************************************************************** - August 19, 2001 by ???? ???????
---
I'm wondering... - Is this website a violation of Digital Millennium Copyright Act? - August 18, 2001 by Ken Lepond
---
Olyrics - SEKOGAS KOGA SAKAS NA NAPRAVIS NESTO NAPRAVI GO PRAVILNOTO KAKO I DA E OK ALI I USTE NESTO RADE JA SAKA MNOGU PAVLINKA I CE JA SAKA ZASEKOGAS (FOREVER AND EVER) OK E OK E... ZNAM DEKA NE VI SE VERUVA ALI TOA E TOA A SEPAK MISLAM DEKA MOZE DA SE DOPISUVA NA DADENIOT KOMENTAR ME RAZBIRAS I SEGA MESTO ZA REKLAMA: INTERNET CAFE NEO PLANET KAVADARCI MACEDONIA - August 17, 2001 by rade dosev
---