>
Plugins

>
General
ProppFrexx_2_0_NET
Broadcast Automation and Scheduling for Internet Radio
Broadcast Automation and Scheduling for Internet Radio
ProppFrexx is may be the most efficient and easiest way to handle non-stop radio automation!It remotely controls your Winamp media player, monitors the playlist and add tracks to it on the fly whenever needed. ProppFrexx is designed to work with Winamp 2.x, since this is the most common player used for internet radio broadcasting. Main Features:Management of M3U files as media libraries - your source of any tracks you want to play Extensive scripting features to control track cueing to Winamp (e.g. randomly) Sophisticated program scheduler to automate all your tasks and scripts Various song history options to ensure that tracks are not played twice Supports of any file formats, e.g. mp3, wma etc. Pre-listen functions through build in media player Remote-Server/Client to control two instances of ProppFrexx Various statistical functions ProppFrexx is designed and developped by an internet radio station for internet radio stations.ProppFrexx enables you to run your radio station fully automated. You can be on vacation, on work or just relax in the sun ? ProppFrexx will schedule your program, select the tracks automatically from your media libraries according to your script and will cue them to Winamp.
Download plugin
| | | |
| --- | --- | --- |
| July 15, 2003 by Bernd Niedergesaess | 59908 downloads | |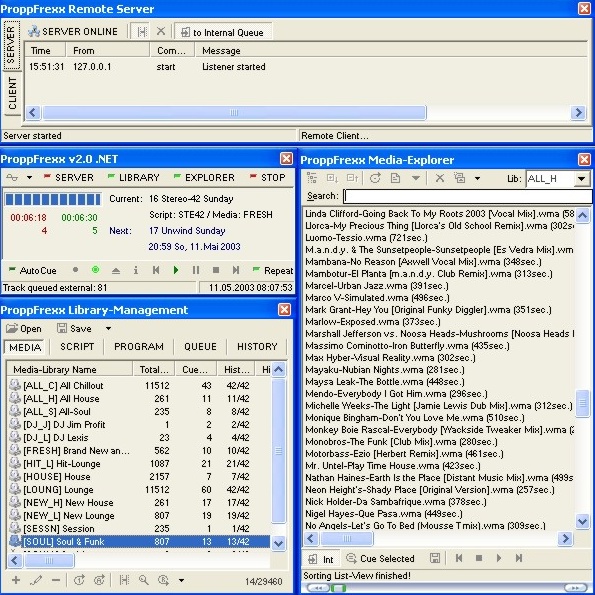 Staff review
Extensive tool for radio automation
First off, you need to make sure you have the system requirements for this to work properly, namely Microsoft.NET Framework 1.1 or higher (a hefty download), enough free memory (depends on your OS, check the included readme file for a complete rundown and for installation instructions), as well as enough harddrive space for Framework 1.1. That said, ProppFrexx is a nicely featured tool for radio automation. Allows you to remotely control Winamp as well as edit the playlist on the fly.
Comments
Deinstalling - After a short eval of the plug-in, I decided to uninstall via control panel. It did remove the plug-in plus removed the desktop items for internet explorer and usenext. It also de-installed windows XP update and corrupted Win Media Player. Thanks PS This is my 4th attempt to submit the review, the last 3 were with a zero star rating, maybe a 1 star works. - August 31, 2005 by Chuck Shumar
---
Christian - fdhdhfj - July 19, 2005 by picard alban
---
ProppFrexx 2 0 NET - very good it coud be that little bit better but it is wat i was looking for - May 16, 2004 by Nathan Walsh
---
Internet Radio - Well done! The perfect tool for all Internet Radio Broadcasters. Instead of buying very expensive professional tools this little thing does it all. And the registration price is really fair for this tool. The best is, that it does NOT use a complex SQL DB, but the flat M3U file for managing your track database - thats much more easy! - July 23, 2003 by Bernd Niedergesaess
---