>
Plugins

>
DSP/Effect
Predatohm Funky
Multiband Compression/Distortion/Tube-sim/Mastering tool
Multiband Compression/Distortion/Tube-sim/Mastering tool - v1.10 Funky Skin
A tool specifically designed to dramatically boost the sound. Originally specialized in lead and rhythmic part work, it can also be used for mastering a whole track.Consisting of a multi-band compressor and multi-band distortion, it can add just a little punch, recreate ol'good tube amp sound, or heavily distort and color the sound in a way never heard yet.With the Feedback Simulation feature, you'll be able to reproduce the scream of an electric guitar with any instrument ! Try it now, you won't regret it !
Download plugin
| | | |
| --- | --- | --- |
| October 8, 2001 by Ohm Force | 172530 downloads | |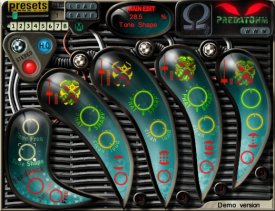 Staff review
Very sleek looking audio enhancement plug-in
Allows for you to be in full control over the sound of Winamp. An extremely nice looking interface gives you all the tools you need to get your mp3's to sound perfect. This is the demo version.
Comments
No shareware - I won't download shareware plugins . The program is free and should remain free . Bye - March 11, 2005 by Nikkie c
---
tired of shareware - I'm getting tired of all this demo, shareware, trial'n'stuff shit. I gave it 3 stars just for that. Otherwise it might deserve more... LONG LIVE FREEWARE !!! - December 15, 2003 by Sam T
---
I just want you to buy me! (hahaha) - I never thought I would ever give a negative review but this download only constantly closed Winamp with an error code and immediately went to their internet site asking me to buy it and I didn't even have one second of evaluation for it's sound quality. I rate this NO stars for the inconvenience of stopping my songs from being played and the audacity to ask me to buy their product. Piss poor advertisement! - September 2, 2003 by Jesse Mendez
---
Don't even bother - If you want your MP3 to sound better get better speaker system . this tool is not better than any other MP3 "enhancement" filters there is, it adds noises to the sound which is not on the original recording, and by adding new sound you just degrading it. that sucks. instead of bugging with that learn how the use the winamp built in EQ it's much more efficient to add punch and lessen unwanted frequencies (such as 3.15KHz which is a problem with MP3s). - September 29, 2002 by Carlos Rodriguez
---
Rock Art - This thing slays me. Funtional and funky. - May 17, 2002 by Henry Mason
---
meh - it's good but so was all the others i have found, don't get me wrong this is the best so far but it has the same thing bout it that pisses me off that all the other dsp/effect plugins have, the volume keeps changing when it would normaly get distorted. i am a dj i know how to controll this crap if u find a pluging that stays as u put it can u plz tell me? - April 14, 2002 by doggle drumer
---
Compression, Distortion, Expansion, Feedback - The four things you need to make rocking guitar sounds, compression, distortion, expansion, and feedback, all applicable to 4 seperate bands of your choosing. You can make any mix sound better with this jewel. I had problems with thier funky low budget purchase online setup, but they finally got me my registration stuff and now I rock! - March 27, 2002 by John Dooley
---
Cool Plugin but... - I think its one hell of a cool plugin. It would be a five star plugin if you didnt have to fork over cash for the full version. - February 17, 2002 by ryan watters
---
YEAH OOOOH BABY - These guys seriously rock.This drives my music like a sledgehammer.My neighbours ears are bleeding MWAHHAAAHHHAHHHHHHHHHHHHAAAAAAAAAA! - January 25, 2002 by tom allen
---
10/10 in "Computer Music" latest issue - I guess this will definitely bring useful info to the ppl who doesn't know this awesome plugz and are misguided by the frustrated spammer here. This thing BOOST the sound, if you use it in a party it will drives your neighbourghood crazy. - December 21, 2001 by Ed Wood
---
not much - good graphics but not much else...the stars are ONLY for the graphics, (emphasis on ONLY). do not download this if you want any improvement in the sound. HUGE distortion and it all stinks like rotting worms. too much hard drive space. not worth the time.... - December 4, 2001 by t clinto
---
You'll have to pay for this one - dit is the distortion effect to own..... try it is to need it..... - November 7, 2001 by sinapoipourale naralungom
---
Dl this demo - Hey ! Funky predatohm spank the munky ! lol Indeed this one rocks and is powerful. I think today it is the most evoluate plugins for wa. and it is provided with cool graphics interface. What should i ask for if it is not to have it for free ? - November 7, 2001 by Rag A
---
LOVE IT - Predatohm sounds really good. I mus confess that it is not easy to use the first time you run it. But once you reach the art of the master of sounds :)predatohm sounds perfectly. You can even totally insulate basses or singing parts of a song. Moreover it uses little CPU and graphics are good and quite fit with my winamp skin. You should try this one - November 7, 2001 by Marcel attack
---
Enormous sound distorsion - ENORMOUS sound distorsion!, Big CPU usage and intrusive design. - November 2, 2001 by Giacomo D.
---
Praise the DSP! - Ma brotheran come and join hands together with me now! LLAMAS 3:15 And the Predatohm will come down from the heavens to bless thy Winamp with the fruits of DSP! Say it with me now! Praise the DSP! - October 26, 2001 by Taicho Mitsuda
---
high quality signal booster - Cool graphics & you can archieve really cool effects. 5* - September 21, 2001 by Evolutive sound
---
Cool interface :o) - I try both classic and funky skins of this plugin. As far as i'm concern, the classic skin is quite more pratical than the funky one. Even if the funky skins seems to be funnier for people who are not used to recording materials, the classic skin is about the same quality of the hardware you can find on the currently market. I hardly recommand this tool to anyone who found any interest in making music with this computer. I believe ohm force is making one step further for the musicians community by allowing the masses to use powerful tools designed for Cubase's experienced users. Best whishes for this french team who is definitely changing the rules of the recording world. Thanx a lot Ohm Team for this amazing tool. If you find any interest in Music & Computer, i advise you to have a look at their site. There are lots of ?dvises and of course lots of presets available there. Just check : http://www.ohmforce.com - September 7, 2001 by Tom Rodney
---
COOL ART-BAD SOUND! - i give this plug-in 5 stars ONLY for the cool art!!!! other than that,it makes WINAMP sound like SHITAMP! nuff said !!!! - August 18, 2001 by Timothy Lee
---
What's the point? - It works well, but it doesn't sound good. Simply it makes your sound system sound worse than it did before you loaded the plug in. And they want money for this? - August 17, 2001 by John Clements
---
cool toy - i'm not a big WinAmp user, but i'm definitely seduced by those toys that make you feel you're a genius when you're not talented enough to actually create the songs you like to tweak. love the looks of this one and oooh my! my wig has just been blown off by that wicked sound!! i need a little practice to tame it a bit... cheers, joey PS: download this one, it's cool. - August 17, 2001 by Joey Skwad
---