>
Plugins

>
DSP/Effect
Predatohm Classic
Multiband Compression/Distortion/Tube-sim/Mastering tool
Multiband Compression/Distortion/Tube-sim/Mastering tool - v1.10 Classic Skin
A tool specifically designed to dramatically boost the sound. Originally specialized in lead and rhythmic part work, it can also be used for mastering a whole track.Consisting of a multi-band compressor and multi-band distortion, it can add just a little punch, recreate ol'good tube amp sound, or heavily distort and color the sound in a way never heard yet.With the Feedback Simulation feature, you'll be able to reproduce the scream of an electric guitar with any instrument ! Try it now, you won't regret it !
Download plugin
| | | |
| --- | --- | --- |
| October 8, 2001 by Ohm Force | 259571 downloads | |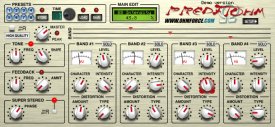 Staff review
Great tool for enhancing the sounds of your mp3 files
This is a really slick and enticing interface that makes enhancing your tracks a pleasure. Very complete control allows you to tweak many many sound parameters...very good for audio geeks and curious new timers alike.
Comments
Its not that bad ! - Ohm Force make VST plug ins using what i'd guess to be the same algorythms as the winamp versions, so to say VST FX are the real thing is a little unfair. Good for parties, where you want to keep the BASS and other bands at a contant level, or max level and to extend the stereo image. (watch out for low res MP3 else you will hear compression Standard compressor labels would be better and a graph would be nice. For a top notch MBC check out WAVES.com or Yamaha FInal master...not sure if there is a VST adaptor for winamp though. - March 10, 2004 by david dave
---
Sorry Excuse for a Plug-In - Don't say there's compression when there is none. And if there is, it's insanely hard to use. This is just a bunch of crap knobs and stupid little tricks. I recommend finding DirectX or VST plug-ins: the real shit. Stay away from this laughable crap! - November 15, 2003 by Holy Fuck!
---
S p y w a r e ! ! ! - S p y w a r e ! ! ! S p y w a r e ! ! ! S p y w a r e ! ! ! S p y w a r e ! ! ! - February 2, 2003 by Claudio Marcant
---
What!? - what the hell is this crap! DO NOT DOWNLOAD! this takes up way too much downloading time, takes over winamp and is imposible to deleat! - March 27, 2002 by Moses .
---
Expires in a BAD WAY - I would not have downloaded it if I knew it DISTORED THE SOUND OF MY WINAMP after 8 hours. The writer even says so. Thats just plain wrong. I wont check it any further to see if its good. - January 18, 2002 by dj bear
---
ScrEw OHM - They screw yo it won't uninistall and it pops up every time tyou sart program I just wasted my hard drive space cuase I installed and it make your music crappier than if you where a blind monkey - December 10, 2001 by Michael Wooten
---
dl it - I love this plugin - November 29, 2001 by Robins des bois
---
excellent tool for drum'n bass - Predatohm is powerful. It can boost your sound and allows you to go far away from the limit you can imagine. I'm kind of d'n b, and each time i use it i can find THE sound i was looking for. Dl the demo, you won't be disappointed - October 12, 2001 by Twin PiX
---
cool dsp effect - i'm not sure the exact term to use in my title is *cool*.... Predatohm is a wild *may be wild could fit it more than cool* machine that uses big distortion. Something surprising : a feedback generator ! Don't knnow yet how to use it but seems to have lots of possibility. - October 12, 2001 by Canonbullet hole
---
Blind Monkeys! - This plugin is the worst. I figure a blind monkey could build a better plugin than these guys. - October 12, 2001 by bert chambers
---
Excellent - predatohm is a wild beast. Not easy to use, but the presets on their site are cool. - September 19, 2001 by Nashe Flower
---
This tool roxXx - i can't believe the effects this plugin can do. Really usefull. i give it ... *************************************stars ;) - September 19, 2001 by boulanger childeric
---
WOW! - WOW! THIS THING REALLY STINKS !I MEAN WHAT A WASTE OF DISK SPACE ! - September 15, 2001 by TO: Megatherion
---
surprising tool - I try both classic and funky skins of this plugin. As far as i'm concern, the classic skin is quite more pratical than the funky one. Even if the funky skins seems to be funnier for people who are not used to recording materials, the classic skin is about the same quality of the hardware you can find on the currently market. I hardly recommand this tool to anyone who found any interest in making music with this computer. I believe ohm force is making one step further for the musicians community by allowing the masses to use powerful tools designed for Cubase's experienced users. Best whishes for this french team who is definitely changing the rules of the recording world. Thanx a lot Ohm Team for this amazing tool. If you find any interest in Music & Computer, i advise you to have a look at their site. There are lots of ?dvises and of course lots of presets available there. Just check : http://www.ohmforce.com - September 7, 2001 by Tom Rodney
---
Very good - I like it. I can said this only!! - September 5, 2001 by Javier Gutierrez Manso
---
Predatohm classic - It looks cool but ain't it a freeware? - August 17, 2001 by Kyle ONG
---