>
Plugins

>
Output
PowerFX Sound Enhancer 210
Newly updated version, with greatly improved audioburst fx system
Newly updated version, with greatly improved audioburst fx system
Audioburst PowerFX 2 is a breakthrough technology that enhances digital audio by increasing the power output from your speakers, you will discover the real benefits of your sound system by PowerFX 2. Unique psychoacoustic techniques ensure a clearer perceptually louder sound with no audible distortion. Get ready to experience the sound you imagine you want and gain full control of your sound by PowerFX 2!

V2.10 Major upgrade to the Audioburst FX system.
Download plugin
| | | |
| --- | --- | --- |
| October 20, 2006 by QO Labs | 117107 downloads | |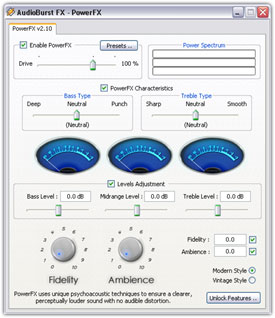 Staff review
Output amplifier
This has a resampler and some basic options on the boost it provides. The sound output was as expected though the lack of configuration on the fade durations does make it less feature complete to other output plugins.
This is a limited version though by holding the mouse/selection in place then you can preview some of the adjustments to see how it works for you.
Comments
i cannot uninstall this plugin and winamp crashes and is extremely slow to load and then crashes it worked fine until i tried this program and i cannot un install it tried several times no luck i may have to un install winamp to get rid of this problem - November 23, 2010 by Bill
---
Crashes Winamp and cannot uninstall. Crapware. Try it and see. - October 14, 2010 by [email protected]
---
55648948 - 8yihuhtf8i,onyftyhi - July 26, 2009 by alan_martelo
---
Sounds great on my system - This is a good little addition to my setup.I turned off the DSP on my speakers and adjusted the settings using this plugin with good results. IMO this is well worth the cash for the difference it has made, nice easy to use functions, good value for the return in quality. It could look a little better but i didnt buy it because it has a pretty window ;o) - May 8, 2008 by Mark Dayton
---
The best output plugin !! - Winamp5 + PowerFX(out32bit,resample48000) +Enhancer017 ---just for Hi- Fi sistems (5.1)e.g. Logitech Z5500 and Audigy X-Fi Xreme audio. The best ! - February 3, 2008 by andrei p
---
Has great potential! - I decided to check on DFX alternatives after it misbehaved on my system and I stumbled on this. Although it markets as a no-brainer (like DFX), it is definitely in the semi-pro direction, attempting to combine in a single interface many DSP plugins audiophiles use. The developers definitely know their audio engineering and programming (the spectrum analyser response is impressive) and it works flawlessly on my Win XP 64 (not easy).I think that if: a) they provided some form of feedback channel to allow us send in suggestions (they don't even have an email contact!) b) added some audio theory on their website to convince us on their rationale and approach c) displayed more info (like axis and ticks on the spectrum) d) added more parameters to control (e.g. crossover frequencies in the parametric EQ) e) add a low and high cut filter f) add a 30-band EQ, think that this plugin would be much discussed in audio forums. - July 6, 2007 by UBfusion UBfusion
---
Install fix - Yep, good old windows. Try running the uninstall program again(for the plugin), that seemed to fix the now winamp thing. Otherwise try deleting the files manually. ./winamp/plugins/out_burst.dll ./qolabs/./audiobust.dll ./qolabs/./hot_install.exe ./qolabs/./unistall.exe ./qolabs/audioburst/ another thing you could do is try to find all the files in the registry related to winamp. might suggest live.com and hover over the windows logo and click saftey center. do the full service scan and that should find the registry errors causing winamp to break. If all else fails wipe the hard drive clean and install Linux. - April 25, 2007 by Joe Sandaker
---
crashes my winamp - I downloaded and installed the plugin. Durring installation you're given the option to automaticaly run the plugin when Winamp starts. I chose that option. When i open winamp- I never see winamp- all i see is this plugin and windows xp saying that: Winamp has encountered a problem and needs to close. I haven't seen my Winamp since I installed this plugin. - January 25, 2007 by Ben Morton
---
this plugin sucks - if this plugin has a new version it's better to give the lower version for free otherwise this plugin sucks your wallet. I suggest you follow what the Jammix plugin did, we enjoyed the plugin very much, it has a very good quality and most of all its free. - December 12, 2006 by jun lapunete
---
The best Winamp plugin since OzoneMP - My hat's off to QO Labs for finally bringing us a detail-specific output plugin that allows me to configure the amount & type of sound processing according to MY specific preferences, intentions, & system resources! This plugin (along with Izotope OzoneMP & Nullsoft, of course) have helped me turn my PC into my primary (& first-rate!) audio platform. My music wouldn't be caught dead without it. The new update with all the configurable options is fantastic and well worth the price of upgrading to the full version. One small complaint -- the AudioBurst windows clutter up my toolbar. An option to send them to the systray or to hide them within Winamp's menus would be nice. Otherwise, it's perfect! - November 11, 2006 by Chris Grose
---