>
Plugins

>
General
PowerCharts v1
Winamp General Purpose Plugin
Winamp General Purpose Plugin
Create a chart from the mp3s you listen to. Weekly, Monthly and alltime...Track, Artist or Album, create charts from your mp3s' ID tags.
Download plugin
| | | |
| --- | --- | --- |
| March 18, 2002 by kevin bikkelton | 7390 downloads | |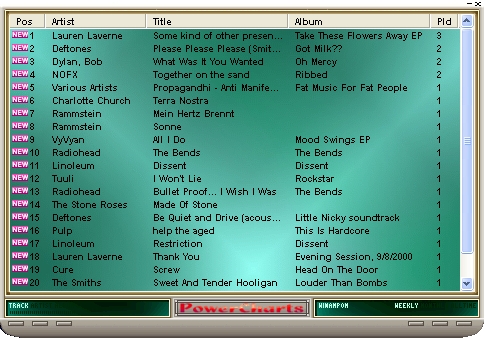 Staff review
Chart the music you listen to
Allows for you to make a chart for the songs you listen to... you can organize list in several different ways and view from week, to month, to year. It would be very nice to include some sort of instructions or readme file with this... it was easy enough to install, but, after listening to a few songs, nothing was charted. Not sure if you actually have to wait for a week to see any results. A readme file containing this type of information would be very valuable.
Comments
Nice, but... - ...too bad it's not stable with 5.3+. Also it would be nice to have it intergrated into Winamp, instead of an external app (maybe it wasn't possible back then, don't know). Hope there will be a new version, because the idea and features are nice. - April 3, 2007 by Abi S.
---
It's better than - any of the other chart plug-ins I've tried... Only you should make it take the look of the skin 'cause it's pretty ugly in my opinion. Other than that it's cool, I am well satisfied with the 30 sec. limit before it is putting the track on the chart, so that if the Winamp is shuffling to something crappy and you just skip it after 5 sec. it won't hit the chart. It's nice work Kevin, simple and nice. - October 6, 2002 by Henrik Kr?yer
---
Options - You can either log every track or only log tracks which have an ID tag (default). check options. hope that helps, i should have included it in the readme file. - March 19, 2002 by kevin bikkelton
---