>
Plugins

>
General
PlayList SWitcher
PlayList SWitcher is a multi functional general plug-in
PlayList SWitcher is a multi functional general plug-in
PlayList SWitcher or PLSW is a general plug-in used to load play list's and then set timers to run the play lists at certain times, run once or stop on certain dates and times. Also it includes a volume selection setting. I believe this plug-in will be more used by ShoutCAST DJ than Joe Soap, but it's great for themed parties and could be used as an alarm clock of some kind.
Download plugin
| | | |
| --- | --- | --- |
| February 16, 2003 by CLAN DiCE | 13257 downloads | |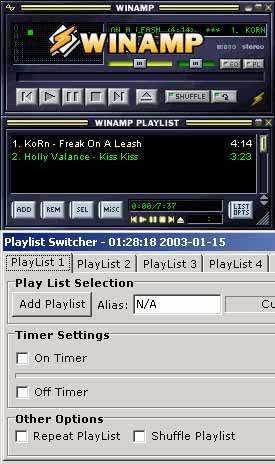 Staff review
Great tool for ShoutCast and online radio dj's
Let's you set up five different playlist tabs which can all be scheduled to play based on a timer. Great tool for online radio dj's who want to set up a number of playlists and have them cue automatically. Other features include repeat, shuffle, alphablending, etc.
Comments
IDEA - If this program could schedule 7 play list or be able to schedule Station ID's. Shows by hour, min and sec. on different days so if your playing a song and it's lets say 2 mins into the song the station ID would need to play. then from there play a new song. this is like the biggest thing for winamp to have and it would be the hottest thing world wide! this is no joke someone BUILD A STATION SCHEDULE PLAY LIST FOR WINAMP. WHEN SOMEONE DOES I WOUULD LOVE TO TEST IT!!!! Myspace.com/eddiegetdownortiz - September 11, 2008 by Eddie Ortiz
---
Nice, but doesn't repeat - This plugin is just what I've been looking for, multiple event times. However, even with the Daily Repeat turned on, the next day the timed event doesn't take effect, I have to set the actual date of the desired timed event. - May 11, 2007 by Elliott Olson
---
DJ Bean - I find when this plugin works it can work well. It's a pretty straight forward plugin but there should be some kind of README or a website. All in all, it's a great plugin if the author keeps up with bug fixes. Give it a try if you're Shoutcasting. - April 22, 2004 by DJ Bean
---