>
Plugins

>
DSP/Effect
Playlist Auto-Gain
Auto-gain on a file basis.
Auto-gain on a file basis.
Automatically adjust the gain level to the maximum possible on a per file basis. It keeps these levels on the disk for later use after winamp is restarted.May sound a bit awkward when first played while the gain levels adjusts, especially the begining.
Download plugin
| | | |
| --- | --- | --- |
| August 15, 2002 by Lior Mualem | 41026 downloads | |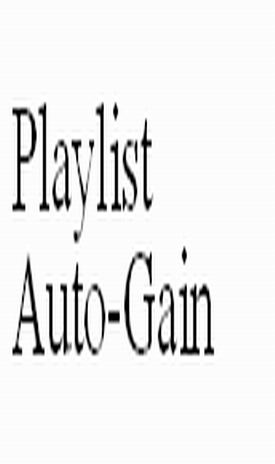 Staff review
Auto-Gain to maximize sound per file
Adjusts each file individually to maximum level; useful for when you have a playlist full of mp3's of different sound level. Definitely sounds a bit choppy/gritty when each track first plays, but, smooths out afterwards for the most part. Although, I noticed some files sounding a little noisy all the way through. Hopefully, future version will be smoother.
Comments
On it's way to become the best auto-gain plugin - This could be the best auto-gain plugin out there if it wasn't for a few issues. I don't like all the other dynamic autogain plugins that keep fondling my volume so this is a really good solution. The biggest issue is that i can't change the path where it saves the data for the mp3's. I want to save it on the same 'jukebox disc' as all my mp3 files. Another thing is that i can't configure it's gain. Can't wait to see the next improved version. Will definetly get a 5 star then! - July 5, 2004 by dario v
---
Very useful - I love this. I find it better than dynamic normalizers, which sometimes make the sound change while playing. This one actually remembers it all. A few comments for improvement: The downside is, as for the media library, if you move or rename a file, it will probably lose its data. It seems a bit unstable. It crashed a few times, each time while I was trying to do something else with Winamp (editing ID3 tags, etc.). And you wish it saved its settings more often: if it crashes after playing 100 files, you have to play them again to have data on them... - February 29, 2004 by Ben Sib
---