>
Plugins

>
General
Pause and Resume
Easily delay between songs
Easily delay between songs
Pause&Resume is a simple-to-use plugin that creates delays between songs, excellent for people who wish to record from Winamp directly to their MiniDisc.V1.2 incorporates a few changes that were suggested - Space/Enter closes the delay dialog, Dialog doesn't steal focus anymore and feedback from our website (See the Readme for more info).
Download plugin
| | | |
| --- | --- | --- |
| July 29, 2002 by Goblineye Entertainment | 11036 downloads | |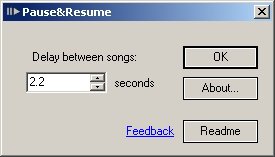 Staff review
Does what it says
Allows you to enter in an amount of seconds that you would like Winamp to pause between tracks... very useful for making disc recordings. New version with updates and fixes.
Comments
Does what is says, but interferes with Manual Advance - It works as advertised, but when it is activated it interferes with Manual Advance so one can not stop between tracks or repeat a single track of a playlist. In Winamp V5.31 the popup window does not appear, but it does appear in previous versions. It would be nice to be able to skin the controls of this plug-in so that it would appear in the main window. - November 7, 2006 by John Clement
---
Pause and Resume works, but... - It does exactly what it claims to do, and introduces a pause between tracks. However it also disables the Manual play advance function. Repeat is not affected. So it is not possible to repeat a single track or automatically stop at the end of the current track. This may partially be a Winamp problem because the Modern Skin also has some interactions between the repeat and the Manual play advance. - November 5, 2006 by John Clement
---
so-so - Works, but pops up an annoying little window during pauses. - November 16, 2002 by Raoul Duke
---