>
Plugins

>
Input
Oldsk00l MOD player
Plugin for playing various Amiga music formats
Plugin for playing various Amiga music formats
This plugin is 100% compatible with Protracker, Noisetracker and many synthformats found on the Amiga, including Future Composer and SoundMon.
Download plugin
| | | |
| --- | --- | --- |
| January 4, 2000 by Carsten Sorensen | 90140 downloads | |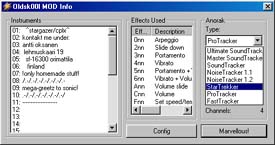 Staff review
Accurate MOD reproduction for the true mod listener
If you're serious about listening to MODs, and other old amiga formats, get this plug-in.
Comments
The only one - yes, the only one that can play the famous mod "Kilsje paa klisje" at real speed, all others plays it slowly because they don't know how to handle the mod file. Really good plugin for MOD fan. - November 11, 2006 by UzEB UzEB
---
to be improved - a very great Plug-In i must say... but the other reviewers didn't describe all bugs. It's not really a bug but a function that not only i used in MOD-Files. It is the option to have more than one song in a MOD-File by setting different loop-points in the Patterns. Oldsk00l does only play the MOD until the first loop and cuts off the rest. The Miniplayer from OctaMED SoundStudio and Deliplayer do it better. Also some effects with Volume and Fading in different ways does not behave like a real Protracker or Deliplayer or Miniplayer. Get these bugs out and i'll give you 5. by the way it would be cool if you insert a sample-as-text-view function cauze there was a time where some authors loaded a text as sample for more information. - March 31, 2005 by Richard Wroblewski
---
Whoo! - Hurray for the days of MODs! I feel nostalgia setting in... - February 23, 2004 by Armand Zimmerman
---
thanks - thank you! without this plugin i would not be able to listen to all my oldies.. well done. - August 6, 2003 by tony hawk
---
Needs more control options - The mods sound just right, and the stereo blend adjuster is a welcome feature. However, the interpolation feature doesn't work; percussive sounds come out drastically different when it's on. The worst missing feature is lack of support for mods that loop back to the beginning or a given point in the middle. The Amiga-native MOD player that I used to use, which I now can't remember the name of, had many features to adjust playback, and could remember some of these settings for individual MOD files. To really do the mod-playing job right, something of this kind is needed. Some mods need to be played 6/5 as fast as standard speed (and a general speed tuner is nice to have), some need to be looped and others need to forbid looping, and in some cases it would be nice to turn on the (emulated) lowpass filter. There are other variations too which I can't even remember now, but those are the more important ones. Ideally there would be settings to, for instance, loop a given number of times and then fade out. Is there source code? :) - October 15, 2002 by Paul Kienitz
---
Ahrg! Didn?t work with Winamp 3 full - Oh no! Winamp 3 can?t use your plug-in. Winamp 3 can not play my mods! That must be the end... :( - June 20, 2002 by Marc J U.
---
Great sound, but buggy interpolation - Without interpolation, it sounds great. With interpolation, samples often click at the loop points. Almost perfect, but not quite. The current version is nearly two years old now; will the bug ever be fixed? I hope so, because if it is this plugin will be unimpeachable. - November 7, 2001 by Matthew Miller
---
The most accurate amiga mod emulator - The only one which will play mods properly which use the sample wave shift function... :))) Well done Carsten..... (ex) T.D.K. / melon design. - August 17, 2001 by Mark Knight
---
from Beatmasters - Very_good plugin, w/ an excellent panning control, keep movin' Trackers'll never die... Fasttracker II [rules] [sucks] - July 29, 2001 by fosk The Foskiller
---
Brill - Well..its brilliant!I always listen to mods and they sure as hell sound better,so well done carsten!! - July 9, 2001 by stephen colville
---
Better sounding MODs! - I would have given this a rating of 5 if it weren't for a few things. 1. When selecting a mod in the playlist and pressing alt+3 it doesn't show any info for it, instead, the length of the song disappears from the list. 2. The title is not displayed in the info. Despite these drawbacks, I must say it is a wonderful input plugin with options to make it sound the way you want it to. - April 28, 2001 by Jens Nilsson Sahlin
---