>
Plugins

>
DSP/Effect
OhmBoyz Funky
Super multi-modelay effect
Super multi-modelay effect - v1.20 Funky Skin
This delay combines 4 pre-delays, 2 delays, 2 resonant filters, 2 high shelf controls, 2 distortions, and enough LFO's to keep any tweakhead happy! The combinations that can be made with this plug are staggering - from simple dub delays, to huge complex repeating patterns; you can create any sonic landscape with OhmBoyz Delay !
Download plugin
| | | |
| --- | --- | --- |
| November 7, 2001 by Ohm Force | 156495 downloads | |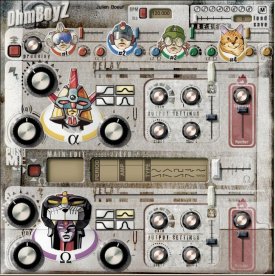 Staff review
Great dsp effect tool
These people design some of the tightest skins out there... this one is no exception. Some really enticing knobs to twiddle here... and the effects you can achieve are really quite powerful. You have full range to distort your songs in a subtle manner or completely make them into unrecognizable sound. Good stuff. Demo version.
Comments
it's wonderful - cool - March 19, 2007 by izetergun ergun
---
Same like VST! - I have this Plugin as a VST-Plugin for my Music-Production...it is great! But in Winamp i dont really need that! Anyway, great Plugin for Music-productions! - December 2, 2004 by Andreas Urbaniak
---
You Have To Register - this is a really neat plug in but you have to register it after like 6 hours which is a HORRIBLE draw back.......... - August 4, 2002 by Sean Shannon
---
Gimmick-ware....and full of bugs too - Crashes Winamp 2.7 under Win98. On the few occaisions I even got this plugin to load, it hardly made any difference to my output. Don't bother with this plugin! - March 20, 2002 by Luv Dup
---
Remarkable - The most outstanding WinAmp plugin available. The basic #1 generic delay routine is the best, and consequently the complexity of the program seems wasted on slobs like me. Do not use this product while high. It will kill you. - February 15, 2002 by Jon Savory
---
this is so cool - What gives? this is a great effect I had no problems??!! - January 25, 2002 by tom allen
---
Shame to the angry developpers - Here again they strike, here again they suck with their stupid 0 star votes. This plug is excellent, tell them all. 5 star again ! - November 24, 2001 by Ed Wood
---
ohm - sorry its not instel i still work for it - November 17, 2001 by shmuel david
---
Ohmboyz ' WICKED ! - This plugin is really powerful combining graphics coming from space and a complexe effect machinery. I use it on everything - November 9, 2001 by Sin Zopera
---
Good plugin - Ohmboyz is consists in powerful "sound machinery". This is the ultimate delay in particular for dub songs. It is really amazing. - November 9, 2001 by Shankar Rav-e
---
ok - ok - November 9, 2001 by macarie horea
---
Umm.. - Umm....may look nice to someone, but I don't care about this one. - November 7, 2001 by Nary Oung
---