>
Plugins

>
General
NxS Info Tool
Just a minor fix!
Just a minor fix!
This plug-in displays a window with many pages trying to use most of the new Winamp 5 API. The most exciting feature is the metadata editor, where you can edit ID3 tags, OGG comments and other metadata like you could in Winamp3.

New in this version:

- Conversion page now works! He he...

- Visualization page updated. Now has peeks and falloff with hi-res time display.

- Title formatting test on Metadata page now uses the song selected in the metadata editor.
Download plugin
| | | |
| --- | --- | --- |
| September 13, 2004 by Nicolai Syvertsen | 11699 downloads | |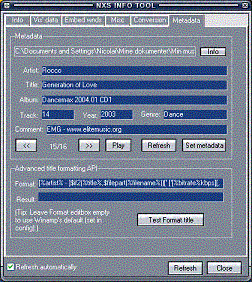 Staff review
Utilize Winamp 5 API features
Multi-function plugin that utilizes API features.... including a metatag editor and a spectrum visualizer.
Comments
very good - i like it, AND i like the Vis Well wicked, it shows up the Xtra features of winamp for sure jus download it - October 20, 2004 by Ben Grant
---
Shame, damn shame. - I found this plug-in whilst browsing at school and got it to work well on the computers there and looked very promising from the ~18 files + radio stations I tried it on. I was going to give it a more thorough test on my much more extensive music (and more) collection when I got back home. But to my dismay whan I attempted to load WA with your plug-in it crashed (almost) instantly. I then took a look at the read-me file to see if there were any knows bugs listed, but there weren't. I found a link to your website but I got a 404 error from tripod. I then also tried it on a clean install of WA, that crashed too, I have yet to try it on a lite install, but I doubt that will work either. I assume that it may be an OS related problem, I use 98SE I will email you tomorrow as it is getting late here. And you may want to check on your website to see if tripod have removed it. This is why I am giving it two stars. I reccomend that people do download this if you have Win 2000 (the PCs at school have this) or later as it looks promising, skinable (uses the standard frame layout or what ever its called), good UI, no errors found (when used at school). Basically a v. good info tool. I just wish I could use it. If you have Win 98SE I warn you: DOWNLOAD AT YOUR OWN RISK. - September 16, 2004 by James Darnley
---