>
Plugins

>
General
Nullsoft Tray Control Icon Pack
Icon packs for use with the Nullsoft Tray Control plug-in
Icon packs for use with the Nullsoft Tray Control plug-in
Bored with the default icons which are bundled with the Nullsoft Tray Control plug-in?
Do you want some kick-ass icon packs?
Well here is the deal. This installer contains the best icon sets which are available on the web.
Just run the small application and style it just like you like it!
Download plugin
| | | |
| --- | --- | --- |
| March 6, 2007 by Darren Owen | 55280 downloads | |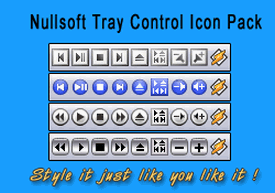 Staff review
Oooh pretties
A good range of icon packs for use with v1.0 and up of the Nullsoft Tray Control plug-in (for best results use with v2.0+)

Installer version: v2.2
Comments
how for me is diffikulty, I'm Polish - Nullsoft Tray Control Icon Pack?is ok :) - February 6, 2008 by lukasz marek
---
Very good!! - . - August 31, 2007 by alex b
---
Good job! - This is handy and stylish. I love it. Makes it a lot easyer to use Winamp, espesially on my low-performance PC. It's fully compatible with classic and modern winamp v.5.33, much better than it's predasessors. Thank you! Keep up the good work! Compliments from Sofia, Bulgaria. - March 10, 2007 by Bobi Drumev
---