>
Plugins

>
General
Nowplaying2Web
This plugin is used to display current playing song on your website and MSN Messenger
This plugin is used to display current playing song on your website and MSN Messenger
Note: Download the latest plugin from http://www.blueforge.net/playing/download/gen_playing2.exe

The winamp.com system is broken and I can't update this plugin for a long time.



version 0.50. This plugin is used to display current playing song on your website and MSN Messenger. Besides, it can display the current playing song as an image.

Homepage: http://www.blueforge.net/playing/?hl=en


Demos:
Text Version:http://www.blueforge.net/playing/demo1.htm
Image Version: http://www.blueforge.net/playing/demo2.htm
Download plugin
| | | |
| --- | --- | --- |
| November 24, 2005 by Pacino Shaw | 36040 downloads | |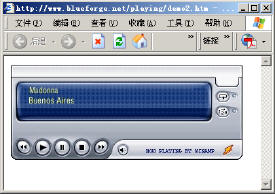 Staff review
Now playing plugin
After going to the website and getting an ID i was up and running within a few seconds.

The website option is extremely useful considering you can customise easily the size and colouring (unlike a number of other plugins like this which you'd have to pay for to do this).

All round this seems to work well.
Comments
Does the job - Unlike a couple of other similar plugins, this one reads the meta data or whatever its called from tag ...the other ones i tried just displayed teh filename, which isnt always the most pleasing to look at.This plugin can be configured, so you choose what it shows ...Nice touchi run 2 messengers simultaneously ... Only works on 1 messenger at a time tho ... Cheers ... - January 26, 2008 by Brian Boyle
---
could do more - could u add unicode/UTF support? - August 25, 2007 by junk jack
---
Awesome! - Finally! Now I'm not stuck with that @^#!^%%##-WMP to show my friends what I'm actually listening! Installing was a glimp, getting an tokenID was farely simple. Does exactly what I expect to do. - July 14, 2006 by Mikey V
---
Yeah! - Its not only good for MSN and your homepage but also on fora :P No portforwarding on your modem! - June 10, 2006 by koffie dick
---
Very useful but... - This is for a free plugin very good, I have it running on my website, and it does do what I want. However anychance of either getting some form of feedback on the website? Plus can there be more output options, maybe just a list of php varibles so we can insert them where we want, apply site formatting etc? Other wise awesome so far. http://www.incessant-logic.me.uk/ In use here. - January 15, 2006 by J C
---
It's good, but... - I've installed this plug-in and it worked perfectly in my MSN. It was very simple, to install and use, without any configuration. My only bad notice is the when I choose to disable the plug-in it stays enabled, and for some video streaming it appears "Winamp - Video"... But for me, the worst is that when the music stops playing, the message in MSN still the same (as if the music still was playing...) - January 13, 2006 by Andre Godoy
---
Loved it but... - Its great I have it up and running, is it possible to add some customization option? I really want to show my top five tracks of the week. (Best if it just check most played play count etc) along side the now playing. Its brilliant as it is but that would make it awesome. ;) - January 12, 2006 by J C
---
updated - thanks to Afrika Bambataa, I have just fixed this bug and it should work better. - December 1, 2005 by Pacino Shaw
---
Forgivable - Yes, it does have nice features. Customization, messenger tag support and stuff like that... Which works nicely. Would have been good, if only it didn't make WinAmp lag when changing tracks. It depends somehow on connecting to a server. I tried halting all internet traffic and it was bad. If you fix, I'll probably use it though. - November 30, 2005 by Afrika Bambataa
---