>
Plugins

>
General
NergAmp 021
NergAmp: Remote Control for Winamp
NergAmp: Remote Control for Winamp
Do you listen to music using Winamp while playing full screen games where you don't have immediate access to Winamp? Have you ever wanted to skip to the next song, pause the music, adjust the music volume, or toggle shuffle while you didn't have direct access to Winamp?Check out NergAmp to configure one-touch hot keys to control Winamp from any application.
Download plugin
| | | |
| --- | --- | --- |
| October 14, 2002 by Jeff Davidson | 5156 downloads | |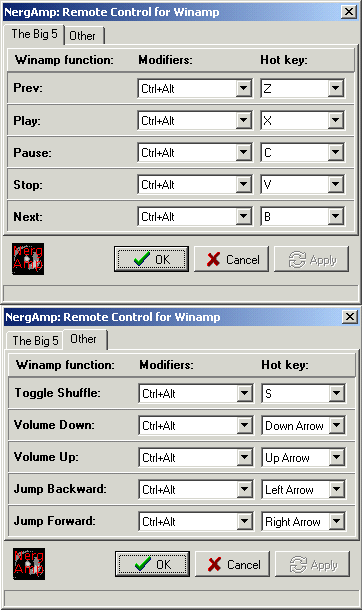 Staff review
Hotkeys for Winamp
Allows for you to set up hotkeys to control Winamp's base functions (play, pause, prev, next, etc.); as well as volume, shuffle, jumb backward and forward. Fairly straightforward to install and configure.
Comments
Well, it would - Wait... Nevermind. Winamp already has global hotkeys. Crap. Well, it would've been good a few years ago. Oops! - September 23, 2006 by Chris Young
---
Awesome! - Man, I've always wanted something like this... And here it is! Well done, Jeff! Oddly enough, I found this when I was searching for a plugin to improve Winamp's shuffle. Probably because he mentions shuffle toggling... Oh well, I'll ask on the forums about it. - September 20, 2006 by Chris Young
---
Best control for WinAmp! - This program is an absolute godsend! Jeff's done an amazing job with this! Thanks Jeff! - February 7, 2003 by Keiran Haggerty
---