>
Plugins

>
General
MS Gramp
Really good plugin for winamp 5
Really good plugin for winamp 5
Works well with winamp 2 and 5 WARNING** does not work with winamp 3, maybe a patch will be release to fix this but for now it works ONLY with winamp versions 2 and 5. This plugin displays the current song playing in winamp to your yahoo messege status. Really neat program and works 95% of the time. If you have any questions go to www.lunch.org/y or email me at [email protected] and I will respond as quickly as possible.
Download plugin
| | | |
| --- | --- | --- |
| January 1, 2005 by Brian Alexander | 234498 downloads | |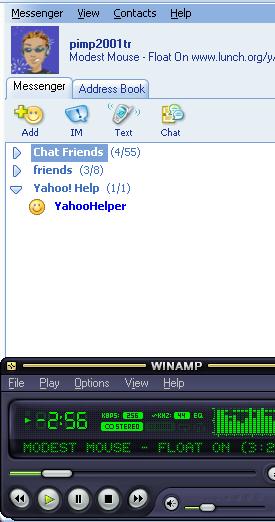 Staff review
Yahoo Messenger Now Playing Info
Simple to install and all appears to work well.
Comments
It's not working in Y! Messenger 8 - I did everything that the instructions / directions said to do, but yet, it's not showing the artist nor the title of song in yahoo messenger. Is it, because of the version 8 of Y! Messenger? If so, do I have to uninstall this version and get version 7 or less? Please let me know. - January 15, 2007 by Heidi Lashley
---
Thanks - It made it much easier than remembering what website I had gotten the plug-in from before...and for that person who rated it before me, It's advertising because it's free...however that was a cocky attitude towards it....anyways you can easily modify that by: go to "options" then "preferences" click where it says "plug-ins" click the "general purpose" then click on the one that says yahoo and press the lil button below on the left that says "configure" a dialog box will pop up and you delete the %U from it...and then it removes the add. *-*Carlee*-* - June 25, 2006 by Carlee Atteberry
---
Um Never Mind :P - Works nice but nice way to advertise. Thats what knocked off 3 stars. Get rid of the advertising and you'll maybe get a 4 star rating. Then You'll be Cool Instantly. :P - August 17, 2005 by Randy D.
---
It works fine - Look i have heard people bad talking this saying it doesnt work.... my plugin ( this really is my plugin notice tha name) works on all versions of messenger i currently am using messenger 7 and i have not had any troubles at all... something is on your computers that is conflicting with it maybe some other program or maybe you dont have it setup but this works on all versions up to date but like i said before it does not work with winamp 3 and i do not know why... but check your configuration in winamp... and thanks to everyone supporting my plugin :) - July 16, 2005 by Brian Alexander
---
It's OK! - Simple and useful!!!!!!!!!!!! - July 11, 2005 by Andy Chirulescu
---
Useful but has a small bug - A useful plugin, but it doesn't change the status back to normal. If i turn off winamp the last played track is still shown in Yahoo. - June 21, 2005 by Daniel Reinke
---
Like it :) - and yes it works with the Beta if you sign out and restart both yahoo messenger and winamp. i'm using winamp 2.9.1 and ymessenger Beta 7 on WinXP SP1 - May 31, 2005 by micky dej
---
MSGramp Rocks - Okay took me a minute to figure out what was gonig on but I did. I am using the beta Yahoo Messenger and it works just fine. So I don't know why dude said it didn't. Also for those of you complaining about the URL going back to the site. First off why?? This guy makes something nice like this and you don't want to give him credit for it? Secondly if you really don't want it there just take out the %U ;) Good job to the creator of this plugin. - May 31, 2005 by Crazie Juggalo
---
DOSE NOT WORK WITH YAHOO MESSENGER 7 BETA - Sadly this Plug-in does not work with Yahoo Messenger 7 Works Very well With all Versions Before it - May 28, 2005 by Stewart Wood
---
Great! :D - I think this is a great plug in! :D Definitely 5 stars. Is there anyway you could put the little headphones in front of the song artist and title like the launchcast radio? I think that would be cool :) - April 29, 2005 by Sarah M
---
MS Gramp - It doesn't work all the time and that is not good. - April 22, 2005 by long boy
---
Hey - does this just work with yahoo messenger? not msn messenger?? - April 10, 2005 by inga einis
---
MS Gramp - it rocks it\'s the best winamp - yahoo plugin - March 18, 2005 by Alex Bauer
---
Bugs, ads and annoyances - The above title is a summary of what this plugin is. Anway, I found a new plugin that works like this one although much better and without the bad features of this plugin. YMS Status Changer http://www.winamp.com/plugins/details.php?id=144248&show=reviews - March 17, 2005 by Winamp_Fanboy McFanboy
---
How... - If I want to edit this file, what should I open it with? - March 13, 2005 by Vince Johnson
---
Works Fine but... - how come the max length of the status message is restricted? the text eventually gets cut off if its too long even though yahoo messenger still has a lot of space for it... please consider fixing this bug. - March 10, 2005 by Nimz Lozano
---
very good - te best from the best - February 27, 2005 by mihai mihaiz
---
Great Idea , Not-Quite-As-Great Exacution - It's a great idea , I like letting my friends know what's currently playing. But please , Mr. Alexander , REMOVE THE DAMN LINK TO A CRAPPY SITE. That damn thing ruins what would be a 5-star rating. Remove it , and it's one of the best plug-ins for Winamp - February 26, 2005 by Barry Dyke
---
Nice try - doesn't work. - Nope.. registry search doesn't find anything. IF YOU DOWNLOAD THIS PLUG IN .. YOU MIGHT AS WELL BE WEARING A T-SHIRT FOR THIS DUDES WEBSITE.. if you are okay looking like a drunk homeless person walking around with a cardboard sign hanging over him.. YOU'LL LOVE THIS PLUGIN. Embarras your friends with you un-web-savvy prowness. - February 25, 2005 by Randall Black
---
Getting rid of lunch.. - If you're not afraid of going into your registry, there may be an easy fix to the "lunch" posting. There is an entry under a Yahoo folder, then your Yahoo ID name as a folder, then a Custom Msgs folder. For now, I've just changed that entry from the "lunch" message to "available." I'll see how that works. (That sounds more complicated than it was. Go to Start - Run - Regedit and search for "www.lunch". When you find it you could delete it or change it. Be careful though, this is your registry!) I am noticing the Busy sign popping up at times -- if anyone figures that out, please post. - February 24, 2005 by Nate Simons
---
WRONG - WRONG WRONG WRONG Do what you may.. but I garuntee you that you have a dumb lunch.tv look cool instantly url by your name no matter what you change in the config.. dont buy into this dudes unsolicited spam.. i am only upset because he didn't say it in his installation agreement.. lame.. - February 17, 2005 by Randall Black
---
Great plugin - Easy to install and cool. Its NOT annoying. Here is the hack. In plugin configuration, %A for artist %T for title and %U for url. The default url is http://lunch.org/y. If you remove %U there won't be any url. If you want your some other url, replace %U with you fav url. Good plugin - February 9, 2005 by pandu gadu
---
Great but it will make you look stupid. - Program works as advertised, however, contrary to what people are saying on here, even if you do remove the setting in the config that tacks his url at the end of every song, you're still going to have his stupid url on your status when you're done listening to your music. Pretty lame if you ask me, I unistalled it. - February 6, 2005 by Randall Black
---
not bad - pretty cool...ur friends list get 2 knw what all u listen 2...only thin i dont like is the fixed www.lunch/y thing...very irritatin..wish cud figure out a way 2 remove it - February 2, 2005 by rohan chowdhury
---
Does not work. - I thought it was a great idea but it did not install correctly or it does not affect the newest version if Yahoo Messenger. I was not pleased when the plugin did absolutely nothing even after configuring it. - January 27, 2005 by XaNnE No
---
HOTT BABIES - [email protected] [email protected] - January 21, 2005 by sarah bosley
---
Better than the competition - This one hasn't crashed my winamp so far (I changed songs about 50 times, to the annoyance of my friends online at the time), it does put my status as busy about 2/3 of the time (there's a pattern to it even), but I added a "I'm not busy" to the custom status to help fix that... And for the authors site being in the status, remove the %U and it goes away! Not that hard people! - January 19, 2005 by Aaron Kunkel
---
Good Plugin, but annoying - While I like this plug in and it works great, the constant tacking on of the author's URL at the end of every song, and in the status message after you close WinAmp is just plain annoying. I can understand him wanting to advertise himself, but that's just too much...especially for something he calls brokenware on his own website. I'll probably keep using it, just because the other ones available are not much better, but I hope the author makes a good version without all the URLs sometime soon. - January 11, 2005 by Summer Wilson
---
awesome - great lil plugin. now all my friends will know what im listening to, while were chatting!! EZ to install, use, and edit as well! 5 starz here - January 10, 2005 by sterling rios
---
Any other like this but for MSN Messenger - This is exavly what i want, dont believe me but i was thinking on how to do it, cause i like to do this with my nick. But i use MSN Messenger. Can anyone tell me is theres one for msn messenger? my mail es [email protected] greettings! - January 9, 2005 by Tremere Yager
---
I-am dat 4 stele. - 4 stele pt. ca... oricum e misto dar eu folosesc altceva. Oricum e misto si asta imi place. I LIKE IT!!! Keep up the good work. But anyhow i use something else. - January 6, 2005 by Adrian Boiciu
---
goog job(bine lucrat) - cum am mai zis si la "title" "goog job(bine lucrat)" e o buna idee si chiar functineaza bine !!!!!!!!!!!! - January 4, 2005 by cornel corel
---