>
Plugins

>
General
MP3Caster
Remote Control for Winamp
Remote Control for Winamp
This is a browser interface for Winamp. Queue a song, adjust the volume or balance, check the current play list and other Winamp functions from a browser on a different pc. Similar to a remote control. Works with Java enable browsers.
Download plugin
| | | |
| --- | --- | --- |
| March 9, 2004 by Hugh Christian | 23260 downloads | |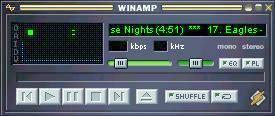 Staff review
Java based remote control for Winamp
Handy plugin that allows you to control Winamp from a remote machine. You'll need Java RunTime software installed (free download from www.java.com) for this to work properly. Also, it helps to have Adobe Acrobat Reader installed (also free) in order to read the installation and usage notes.
Comments
Not much - i actually think its ok - September 29, 2008 by Fiona thomas
---
Simple and effective - The program does what you need it to do, but there is room for improvement like the interface. It's simple and effective. - September 20, 2007 by vivianne summers
---
Great plugin... - You'd think there'd be more of these with ppl using media computers to play stuff on their TV... this is the best I've found. nice. - February 23, 2007 by Philip Pryce
---
Could be better.. - The idea is ok, it is extremely handy when you have a computer somewhere else then where you want to listen your music. But the user interface really sucks! I mean, the song title is just on top of the entire Winamp interface, and there is still another title on the main picture of winamp.. Have you ever heard of photoshop?? - March 21, 2004 by Bart Guliker
---