>
Plugins

>
General
Mp3 Menu 2
Its a menu plug-in to for easy browsing/playing/queuing of your songs
Its a menu plug-in to for easy browsing/playing/queuing of your songs
Your songs are displayed in an easy to browse menu so you can play/queue them in Winamp. To have your songs in the alphabetical listing shown in the picture you must have them organized into alphabetical sub folders. The plug-in will do that for you if all your songs are in one folder. If you have your songs organized in a different folder structure the plug-in will use that too. Updated with a window shade mode and cleaner look, and various bug fixes/improvements.
Download plugin
| | | |
| --- | --- | --- |
| July 2, 2003 by Tom Wickert | 6779 downloads | |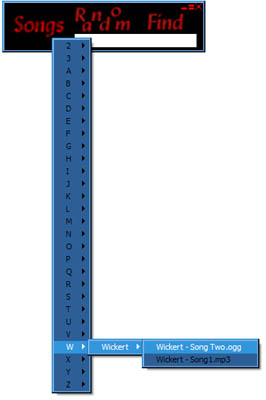 Staff review
Very functional plugin to help you search for and organize your music files
Very easy way to search and queue your music files. Just configure it to point to the directory where your files are located. You can have Mp3 Menu organize all your files into alphabetical sub folders or you can have it utilize your existing folder order. Allows you to configure listings of different types of audio files as well. Very easy to use and very functional, especially for those who have a massive collection of audio files. Works over a LAN too.
Comments
almost perfect! - It's a bummer that this plugin sticks to the upper left corner of your 1st screen, if you have multiple screens (f.i. your TV) this plugin doesn't load where WinAmp loads... It's a bummer because this is a PERFECT TOOL! - July 20, 2004 by Menno Steen
---
Cool Plug-In - I am giving this plug-in 4 stars because you can olny select one song at a time which is kinda bad. but i like the idea of this plug-in it looks preaty cool to good job. - April 10, 2004 by Stephen S
---
winamp already does this - everything is put in each folder by its name and its just a drop down menu . winamp already has a music library in the newer versions .. i dont see a point in putting whats already in the program . i think its more trouble than anything . dont get pissed cause your plugin sucks , it looks ugly also . - November 2, 2003 by nikkie c
---
5 STARS - Unlike Nikkie C, I'm giving this one 5 stars becaus it does exactly what it says. If nikkie doesn't know how to use his pc then that's his own fault. If it says that it'll put all of your songs into folders then what exactly did you expect it to do? By the way, to get them out again all you had to do was use the windows search function and just enter mp3 as the sarch parameter and you'd have had all of your songs in one list which you could then drag to where you wanted. Get yourself a copy of windows for dummies. - June 19, 2003 by Marty Not Given
---