>
Plugins

>
General
MoodLogic for Winamp 2
Featured Plugin, April 24, 2003.
Mix Manager and Tag Fixer. MoodLogic is an MP3 mix maker and media manager plugin with a special twist! Its associated music metadata service makes all the difference and allows you to ... 1. Listen and mix your music by mood! Party to upbeat Rock from the late '90s or chill out to mellow R&B hits. 2. Automatically fix your ID3 tags and file names without ANY manual effort! What you get via this download is the free software and a TRIAL edition for the data service. You can participate and earn credits by entering the necessary song data for your collection yourself (profiling). For your convenience you can also buy full access to the service and enjoy all features from the getgo. Its up to you!
Download plugin
| | | |
| --- | --- | --- |
| May 3, 2003 by MoodLogic Inc. | 31640 downloads | |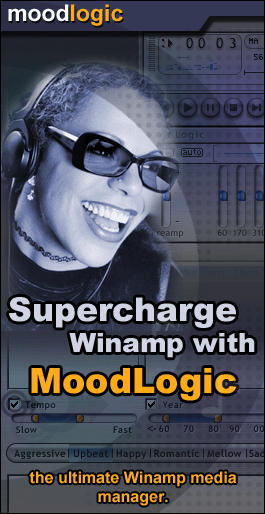 Staff review
Versatile tool for music organization and management
Very smooth interface that provides you with many options in terms of organizing and maintaining your music collection. Allows you to download song information from an extensive database, organize and browse your music in many different ways, edit ID3 tag info, etc. Also comes with a matching skin. An all around solid component. It's moooooood-riffic!
Comments
KICK ASS - I'm no computer newbie, and this is the most kick ass music software I've seen around. This is actually the first piece of software I've EVER bought online, it's THAT good. They did an excellent job with the music recognition - I've only run across and corrected one error in my 300+ MP3 collection. I even ripped a .WAV of music out of Quake 3, MP3ed it, and it recognized sonic1.mp3 as Sonic Mayhem - Sonic No. 1, and sonic2.mp3 as Sonic Mayhem - Noise Purge...! I now have a reason to rip all my audio CDs, so I can have a huge collection of music and something to organize it with! :-D Now the catch. First, it can't be installed on a 95-based OS (ex. Win 98/ME), otherwise the installer will crash :-( . Second, you have to be using the most recent version of MoodLogic for it to install properly; it seems that the version they originally posted on Winamp's site had a major bug... that will lock up right as you open it! Go to http://www.moodlogic.com and download the latest version. Once it is installed, however, it is SOOO KICK ASS! And anotehr thing. Let it fix your file names and tags. If you know how to use it, it is incredibly powerful! - May 4, 2003 by f16 nut
---