>
Plugins

>
General
ml_Icons
Beautify your library
Make your library look prettier with icons!
Can you imagine how much cooler your library could be with nice icons? How much easier it would be to use if only you could visually identify its items?

Well, this is exactly what this plug-in solves: it automatically populates your library's treeview with XP-styled icons.

In addition to the Winamp's default items, this plug-in also provides icons for the entries created by:
-SHOUTcast Wire
-Predixis MusicMagic
-gUSB (not optimal)
_ML_Generic
-Winamp iPod Support
-support for Olympus MR-100
-Creative Nomand Zen
-MP3 Share Cache
-MLTree
-Wombat Share
-Radios FR

Enjoy a colorful library: download it now!
Download plugin
| | | |
| --- | --- | --- |
| December 10, 2005 by Michael Facquet | 127881 downloads | |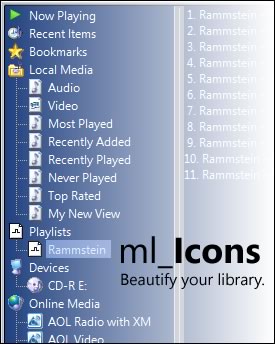 Staff review
My pretties
Does what it says and does help with the look of the ml.
Comments
Needs to be updated for the current version - Looked good in 5.1, looks bad in 5.2 and newer. - October 1, 2006 by Jeffrey Kaplan
---
Hey Mr. Facquet - Are you ALIVE???? - Shortly after this Plugin came out, Winamp Updated. Rendering this awesome Plugin useless...You see, Winamp Added more buttons in Media Library thus trashing this Plug. I have tried, as have others to contact Michael Facquet, the claimed developer, to no avail...since HE is unable, or Unwilling to update this Plugin for the masses, perhaps someone else can? Thanks. And Michael, IF you see this, check out your old emails at your website, Ok? - July 22, 2006 by Brian Stevens
---
Problem with Winamp 5.2 - Nice Plug-In. But it doesn't work with Winamp 5.2 (Icons are in the wrong places) - March 2, 2006 by Christian Tang
---
Works great... until winamp 5.2 - I upgraded to winamp 5.2 and all the icons ended up in the wrong places. It looked brilliant in the previous version, I can only hope that this is fixed with a future release. 4 stars thanks to this little annoyance :) - February 26, 2006 by Chris Thomson
---
Great Looking - Greatly improves the look, can't wait for the update for the new icons added to Winamp 5.2... - February 26, 2006 by Brian Stevens
---
Nice One! - Now that I've used it I won't be able 2 live without it! - February 21, 2006 by Sky Walker
---
sahir - I think this plug is very great man. so keep it up man - February 19, 2006 by sahir moolkeea
---
it's great - I really like this plugin! But you should change one thing: my other disk drives are indicated with a harddrive image. Besides that it\'s perfect! And you\'ve got a good music style to! :) - February 15, 2006 by Arnout van_den_Hoek
---
Windows like Playlist. - I like thease icons because it adds to the already feel of windows OS. - February 7, 2006 by Chris Anthony
---
Very Nice - The plugin does improve the general look of the media library although i will say the icons almost seem like they dont belong, the look of the icons just doesnt seem right. aside from that it is nice to have visuals to identify with certain features. - February 3, 2006 by Eric Nemchik
---
Praise and a suggestion - Nice Plug-In! The Media Library looks much nicer now. I would welcome it if you add an option to use your own icons AND if you would use 32bit icons, because when I modify your file with ResourceHacker and add my favourite icons, then the icons look very ugly in Winamp and I have to modify them with an icon-tool so that the shadow disappears. - January 27, 2006 by Nico Heister
---
winamp makeover:D - It isnt a really usefull plugin, but i think the Winamp Media Libary looks way better now!!!!! so i give it a 5 star rate! thanks! - January 23, 2006 by Harm Gunnink
---
nice - I like this plugin and im quite picky, is it possible to change the icons for a more personilized look? - January 3, 2006 by Chris Francis
---
...I've been waiting for this moment... - I always thought that the ML tree looks very bare but not anymore. Thanks for the eye candy ;-) - December 13, 2005 by Vincent Vincent
---
Great Job - very great job gutenberg ;-) i like your add-on to library Pimousse38 - December 13, 2005 by Patrick NOURRY
---