>
Plugins

>
General
MiniTube
Plays Music Video Of Your Mp3
Find and play the music video for your mp3 file. So your audio playlist becomes a video playlist!
MiniTube will find and stream the music video of your "now playing" mp3 track inside winamp by looking it up on YouTube, Google Video, etc. Think of MiniTube as your own personal VH1, where the music videos are being played from your own winamp's mp3 playlist. There is an option to lip-sync the videos and your mp3 files in the menu at the bottom (also many options are at bottom).It's the first release so tips for improvement are welcome.
Download plugin
| | | |
| --- | --- | --- |
| August 25, 2008 by Sanchit Bhatnagar | 191486 downloads | |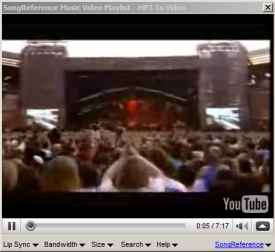 Staff review
A must for music video lovers
This plugin opens a new window and searches YouTube for music videos for your currently playing song.
Comments
can i download movies from youtube with my winamp. - October 17, 2009 by jamesbobby3
---
++++ - works great... - September 29, 2009 by spam
---
Najs... - I have been looking for a plugin so i can use function "Show what i listen to" in Windows Live Messenger (MSN), and this plugin works good, but as far as i know, it dont work with showing meta tag.. (or as in this case title and song).Maybe if you have time to spare and sit fiddeling... you can make it works? - August 5, 2009 by mikaelnorlin
---
Works good, Audio, Video, Music, DVD'S ? - Works good, Audio, Video, Music, DVD'S, Or CD'S ? We don't know yet. - August 3, 2009 by Deborah Preston
---
Temp File Question - First of all what a great plugin idea. I only recently found out how to play .flv files in winamp. My question is some youtube viedoclips leave huge temp files on the system, are these files deleted on closing winamp? are they located in the temp internet files directory? Not to mention the many video clips of any given song - July 4, 2009 by Albon Forbes
---
super - can u pls add checking the length of mp3 and video? thanx - May 9, 2009 by Adam Salamon
---
Crash on exit in 5.55 - I like this plugin, it's quick and its fun. I love playing a random song and seeing the video to go along with that I've never seen before. I've not seen the Lip Sync work, but playing the video's sound is fine. Lack of fullscreen or resizing is unfortunate, but that's YouTube.However, I get a crash on exit with this installed in the 5.55 beta. Possible that it could be fixed for 5.55 final, but I suspect it's the plugin. - February 3, 2009 by Patrick Neil
---
My GOOOOOOOD! Is this real?!?!?! - People, what i discovered today just f...g amazed me!!!! I think this is the best general purpose plug-in ever! I was looking since a very long time for such a thing. I just don`t know how come I haven`t found it till now!What can I say? It is brilliant! The creator of this plug-in had a wonderful idea.Everything goes incredibly well if all the tags are activated for the song you want to see the video!There is also a little issue: I don`t like that I have to see the video in such a small window! I am hoping that the developer will be so kind to fulfill my wish in order to see the video in full screen.And another thing( I really don`t know if that proposal can be accomplished):is there any possibility to make the audio run under DSP/Effects? I usually use those stuffs...It will be great if this plug-in could do it! I would offer it 10 stars, not 5!Great stuff, man! Keep up the good work! - January 3, 2009 by Mateiuc Dan
---
Awsome! - Nice plugin! The full screen mode is all i'm waiting for :) - December 16, 2008 by adam ferguson
---
Hmm - It's okay I guess, but it's hardly a "wow. The previous review got it spot on. Most clips aren't available (not by fault of the creator however) but it does make it quite disappointing. It's less fuss to go to YouTube yourself in my opinion. - October 13, 2008 by Just Someone
---
one word.... awesome - i found this on techcrunch.com. actually come to think of it I was kinda surprised reading about a winamp plugin on such a huge like tc.. but anyway i do see now why they made an exception! Simply put this is by far the best plugin i've seen for winamp lately.. and i strongly recommend it because its a must for every music fan. - September 29, 2008 by Patrick Kraft
---
Doesn't do what it says it does. - Part of the selling point of this plugin is that it will 'sync' the video with the mp3 you play. This is a complete lie. All it does is search for the video on youtube and present it in a window. It doesn't even find the correct video for some of the files I tried. - September 29, 2008 by flatluigi luigi
---
Its very handy - I am loving it :) - September 29, 2008 by
---
Cool - genial - September 19, 2008 by Mirko Nikolaus
---
maybe it's use easy - just dont know - September 11, 2008 by Play Hungman
---
Bad Rass Stuff - YOU KNOW I THOUGHT THIS WOULD BE ANOTHER ONE OF THOSE --> DELETE SOFTWARE, BUT WOW!!!!! EVERYTHING LOADS IS ON ONE SCREEN. THIS IS HOW THIS WORKS. FIRST THE INSTALL IS LIKE 5 SEC OK NOW! ONCE INSTALLED PROGRAM LOOK FOR SOME MUSIC ON YOUR DRIVE CLICK ON IT AND IF IT ON YOU TUBE IT FIND IT FOR YOU. OR YOU CAN CLICK A TRACK FROM YOUR CD DRIVE TO PLAY IN WINAMP. IT WILL FIND ON YOU TUBE REALLY FAST!!!! KICK RASS MAN! IT DOESN'T OPEN WINDOW AFTER WINDOW. EVERYTHING LOADS IN ONE WINDOW. YOU CAN SEARCH FOR SONGS IF YOU LIKE BUT WHY IF IT FIND IT FOR YOU, LOL... CONGRATS ON THIS PROGRAM...AM USING A WINDOWS XP PS2WHAT I THINK WOULD BE REALLY COOLIS IF YOU CAN SEARCH FOR OTHER SONGS VIDEO WHILE ONE IS PLAY AND WHEN THE VEDIO THAT IS PLAYING FINISHES THE NEXT ONE WILL PLAY FROM YOU TUBE LIKE VIDEO DJING, BUT STILL BE ABLE TO SEE THE VEDIO YOUR LOOKING FOR IN WINAMP. NOW THAT WOULD BE GREAT FOR CLUB DJ'S AND INTERNET RADIO STATIONS. IF THEY UPDATE FIND ME ON MYSPACE.COM/EDDIEGETDOWNORTIZ - September 11, 2008 by Eddie Ortiz
---
cool! - never thought it can be! - September 8, 2008 by joel arguil
---
wow - this is exactly what I looked for...a must have..gives the music an extra boost...love it! - August 30, 2008 by Anders S
---
WOW.. pretty nice - love the no nonsense interface and the fact that it just finds and plays music video of every song in my playlist without effort. I love it.. this is now a permanent fixture to my Winamp.. - August 26, 2008 by Brian William
---
Very cool...nice work! - This is a pretty awesome mashup plugin...great work. - August 25, 2008 by Billy White
---