>
Plugins

>
General
madStats Statistics Plugin
Display personal charts and song history [*new version*]
Display personal charts and song history [*new version*]
*new version 1.2* madStats Statistics Plugin displays your personal charts,that means a toplist of the songs or artists you listen tomost frequently. It also shows you a history of songs recently listened to.
Download plugin
| | | |
| --- | --- | --- |
| February 26, 2003 by Bernhard Caspar | 11110 downloads | |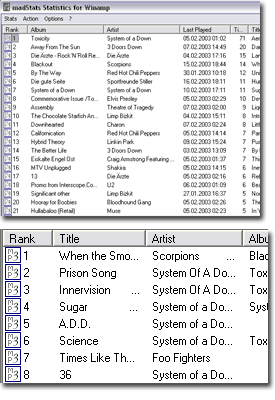 Staff review
Chart your listening habits
Allows for you to check out a database that charts what songs you listen to and how often. You can sort the list based on different values such as, times listened, most listened to artist, title, etc. New version with bug fixes...works much better now.
Comments
This is what I've been searching for!!!! - This has to be my most favorite plug-in. Thank you very much to the creator! - June 1, 2005 by Denise Brown
---
Interesting - Your Personal Charts - I searched this plug-in for a long time. It scores, how often you listen to an song. So, at the end of the week .i'm going to see the charts. It makes me fun, to see who is on the #1. GOOD WORK, Andy - February 29, 2004 by Andreas Fischer
---
Best Stat Plugin for Winamp - Correctly works with songs, handy interface, convenient setup. - November 19, 2002 by Mike Serg
---
It's okay but... - I think it should be a little faster at updating the list... it's like you have to wait till it's writing the chart for you.. But besides that it's the best I've found so far. - October 6, 2002 by Henrik Kr?yer
---
Some Buggy - Nice plugin but have some bugs (v1.0 still). No albom field in report but there it store path of song, so you can play it again. Few options. Not bad but I count 4 bugs in 15 first minutes. - August 29, 2002 by Andrey Bayramov
---
i like this.. - this is good coz i have so many mp3s i cant keep track of things, i like to know what i listen to most - July 1, 2002 by leon armitage
---