>
Plugins

>
General
LiveFolder for Winamp
Monitors a folder and automatically adds new files to the playlist (Source included)
Monitors a folder and automatically adds new files to the playlist (Source included)
Small general purpose plug-in that monitors any file-system folder and adds new files to the playlist. Handy for your incoming folder or a shared music folder on a company server.

New version only adds known file types and waits for the new files to become accessible before attempting to play.
Download plugin
| | | |
| --- | --- | --- |
| June 30, 2006 by Lionello Lunesu | 17675 downloads | |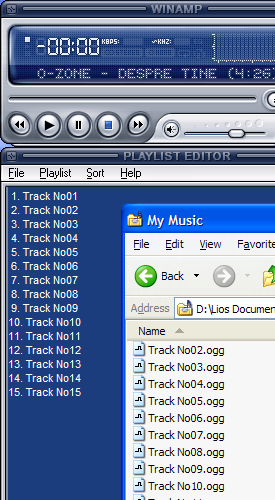 Staff review
Folder monitor
Much improved over the first submission to the site and now works on all OSes tested with this. Some control over what happens when the detected files are fould would be nice such as whether to autoplay the new files or to only add those files not already in the playlist. Otherwise worked well as expected to do so.
Comments
Great idea but - Winamp must be started at the moment something changed in the monitored folder (the plugin doesn't scan the folder at startup or at a period of time). Also, this plugin is nearly impossible to use on networked computers, because if it sense changes in the folder it start scanning each file individually, with lots of files in the folder winamp will freeze until the scan complete.Having a few options to control the plugin would make it perfect: auto re-scan time, scan only for filenames - would improve performance on network computers. - February 10, 2008 by [email protected] .
---
great - exactly what i was looking for, thanks! - February 3, 2008 by Clayton Vinny
---
It must eat 40 oven of bread more.. - Doesn't monitors subfolders >:( - July 23, 2006 by Burak Kalkan
---
Uhm, what? - And we should use this plugin instead of the "watch folder" function already present in winamp because...? - July 2, 2006 by Znuffie Woofie
---