>
Plugins

>
DSP/Effect
KMG DSP Dynamic Volume
Dynamically limits the volume range
Dynamically limits the volume range
This plugin automatically adjusts the WinAmp volume to make LOUD music quieter and soft music LOUDER. The degree to which it minimizes dynamics is adjustable.
Download plugin
| | | |
| --- | --- | --- |
| March 18, 2002 by kevin gardiner | 81246 downloads | |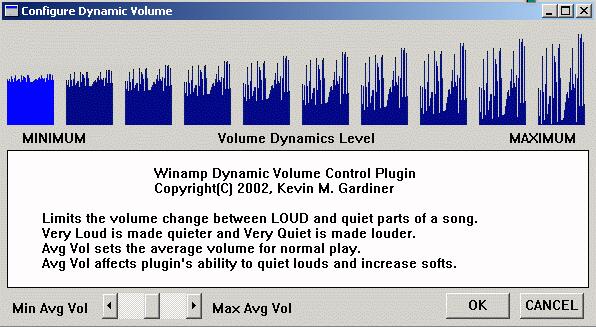 Staff review
Keep everything sounding level
Nice dsp plugin that boosts volume when a song is quiet and lowers volume when a song is loud. This is especially useful when you have mp3's that were recorded at different levels. The degree to which volume is changed can be adjusted to your specific liking. Solid plugin.
Comments
solid - only thing this plugin lacks is looks plain, simple i suppose but effective - October 23, 2006 by Kevin Dodds
---
NICE JOB !! - I have been WAITING for YEARS for this kind of thing to come out ! I have many different kinds of music and I like to mix them up while I work. Some music is VERY loud, some is VERY soft. It's a pain to either bring up the Windows VOLUME control or get up to adjust my stereo system manually. Your program automatically adjusts the WAVE VOLUME so you don't have to !! THANK YOU !! David - May 12, 2004 by David Wicker
---
SIMPLE yet effective for stuff that's not too far out - If your levels from one music file to the next are within say 10% of what they should be, this will help even things out on play back from one song file to the next. - December 8, 2003 by T K
---
Nice plugin but - ... this plugins seems to lost settings after winamp restart. I hope you can fix this. - October 10, 2003 by Rene Fischer
---
too quick - it does not even doing it's job right. probably the worst volume compensation tool for winamp. you can actually hear the volume going and down. I expect that kind of plugin to be unnoticeable. like the song starts at the right volume. it's a NO NO NO - September 29, 2002 by Carlos Rodriguez
---
The GHOST in winamp - Does just what I needed without excess baggage. I can use my headphones and keep my hearing! Save settings would be nice though - June 26, 2002 by m w
---
Cool effect moving the slider! - Unlike Sr. Gallo, I think having the slider move back and forth is a cool effect, which lets you know exactly what the plug-in is doing! Also, by adjusting the volume, you're limiting the distortion occurring to the sound, unlike some of the other gain controls. The only whine I have about it is that I wish it would save my setting when I close WinAmp. Now if I could download it to my car stereo.... - April 23, 2002 by Michael J. Bird
---
The GHOST in Winamp! - Give me a break! This thing messes with the volume control in Winamp like a freakin' GHOST. It's possessed! No thanks, dude. - March 22, 2002 by Paul Gallo
---
Running to Turn It Down? - Not anymore Good work, works very well keeps me from running around while im recording and keeps the output levels on a steady level Nice Work - March 19, 2002 by Jon Marinelli
---