>
Plugins

>
General
Kick_com Music Companion Lite v1_0
Featured Plugin.
Get news, concert dates and through the Minibrowser. We've turbo-charged the Winamp Minibrowser to deliver news, reviews, concert dates, album art and more - all synchronized with the music you're listening to. For those of you who haven't seen anything Kick before, just install this plug-in, launch the Winamp Minibrowser, and watch in wonder as it's filled with all kinds of cool information. If you've tried our original Music Companion, we think you'll like this variation on the theme.
Download plugin
| | | |
| --- | --- | --- |
| February 1, 2003 by Kick .com | 163773 downloads | |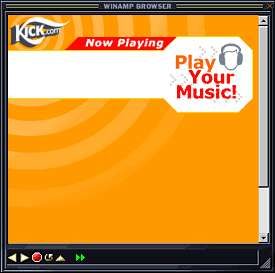 Staff review
Latest and Greatest from Kick.com!
They've really done it! Now you can get your information through the minibrowser, instead of their Kick Music Companion that was a separate program from Winamp. Thanks KICK!-s
Comments
All of these whiners - Every day I read about someone complaining about privacy and that they don't have options and all of that crap....now the normal home user..I can understand...but let's say someone that acts as if they know about hacking or is a lamer and all they do is download free software that has been cracked and hacked because they are not able to do it themselves...shut up people and do something about your privacy instead of depending on someone else to do it...because I guarantee you, if you depend on someone else to do it....you will lose in the long run.. Respectfully, K-Rock! - August 17, 2001 by Kevin Gibson
---
Is Amazing! - I mean with the CDDB feature you get well that just tell you the songs name and other feature, but Kick is more that that it have daily news and other cool feature so I recommend it to all music lover who wants info on the song their listenin to. - June 25, 2001 by Alan Ly
---
sucky suky - dont get it unless you like your privacy invaded i dont - June 15, 2001 by Dj Jet lag
---
its oke but... - I NEED TO HEAR MORE METAL!!! - June 7, 2001 by Angelique de Jager
---
Severe privacy concern - You cannot use Kick_com without registering. But the privacy statement includes the following "we may also track your music choices and preferences based on the information sent through the Music Companion. This information is used to provide you with special information and promotional offers personalized to your tastes. " So I won't use it until they change it so the default is not to spy on me. - May 24, 2001 by paul edenfield
---
Da BOMB! - this be phat ass KICKing of the llama's behind. best and most useful plugin i've ever used. - May 7, 2001 by Johnny Damon
---
Napsterized! - Anyone realize that they added Napster links to this plug-in? This is pretty phat. When you run it for the first time they have this message asking if you have Napster installed and when you get track info and click on the track it launches Napster and automatically searches for the song you clicked on. So much easier to get all the tracks from an album now... - April 27, 2001 by Roger Stevens
---
Great Guide For Music Explorers - The full Kick.com applet was great but I encountered some conflicts with Win ME which became annoying quickly. The lite version is nicely contained and well-behaved in winamp, gives me all the features I want, and finally gives real purpose to winamp's browser! - April 27, 2001 by Robert Martin
---
Yes... it's true! it's true! - Just try this one... but watch out for users who have slow connections or hate working online.. - April 27, 2001 by GodHand Lionheart
---
Wow - The first time I saw the minibrowser I thought there should be stuff like this in it. This plug-in is the coolest thing I've seen for Winamp. Anyone who wants to know more about music should get it. - April 26, 2001 by John Miller
---
I want this plug-in to bear my children. - I think this is the best plug-in I've ever seen for winamp. Now I dont have to put forth the effort to look arround for my favorite artists or find new ones. If im feeling curious it's right there for me. - April 25, 2001 by Matt Moser
---
The Best! - That last comment was incorrect! No ad popups. This thing is the best. - April 23, 2001 by Steven Bouvier
---
minibrowser on steroids - i like it. this is what the minibrowser should have always done. - April 17, 2001 by Kick .com
---
Nifty plug-in - This is certainly one of the better plug-ins I've come across in a while. This definately makes Winamp better than the rest. I've used Kick's old companion, and this is much better because it's much lighter and more transparent. - April 17, 2001 by Davis Jones
---
bring it on - dat be winamp on acid. the good stuff - April 16, 2001 by hooch master
---
the best part: - the best part is the related/similar artists... someone has read and compiled a really helpful database for finding good music based on what you already like. - April 16, 2001 by Ben Sutherland
---
Info central - Works great. Fills the browser with info and links. something CDDB does not do. Would be cool if it could match your skin - April 5, 2001 by paper jam
---
Big Deal - What do you get here that you don't get with CDDB? - April 5, 2001 by Mikel Bendrov
---
Cool beans! - To answer your question, you get *plenty* that you don't get from CDDB-- news, pics, concert dates, release dates and biographies! All you gotta do is listen and it comes to you right in the mini-browser. For those craving easy access to the latest info about their favorite artists, this plug-in rocks. There's more personalization with the full version stand alone version, however, but I still like this lite version a bunch. - April 5, 2001 by Bob George
---