>
Plugins

>
General
Kanistras
Lyric Editor and viewer
Lyric Editor and viewer
With Kanistras you write lyrics for mp3 files and save them in the file. With the plugin winamp shows lyrics while playing songs.
Download plugin
| | | |
| --- | --- | --- |
| October 29, 2003 by Dimitris Kanistras | 6995 downloads | |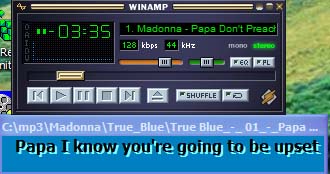 Staff review
Doesn't seem to work
Everything installed ok, and I can go to the config menu...but, the actual display window doesn't stay open at all. When I start Winamp, I see the window, but, when I play a song, the window immediately disappears and it won't come back. I am running Win2k and Winamp 2.91.
Comments
It works very well with winamp 5.58. Unfortunately, add the letters with the supplied software and can be downloaded directly from the web - July 5, 2010 by [email protected]
---
Hidden Display window - The plugin shows the display window only when the mp3 has the lyrics in the comments field (of id3v2 tag) and the lyrics have the right format. There is a lyric editor installed with the plugin (STart menu) - October 31, 2003 by Dimitris Kanistras
---