>
Plugins

>
General
JB-Jukebox
Play and Organize your song
Play and Organize your song
JB-Jukebox Ver. 1.2.3Play and Organize your song using a WinAmp 2.xx as a driver.Made for Screen Resolution 1024x768 and WindowsXP. Works on Win98 and Windows 2000 (Fully Test It On New Installed and Updated Windows)...No Problem Found During Install Or Run On Those Windows.You Can Change Almost Any Thing On The Screen So The Resolution Can Be What Ever You Running.In Version 1.0.0 or Higher The Biggest Changes Are That Has A Skins And Object Like Labels, Imagesand Switches can Be Moved Around and Resized Like Covers and Fonts..... So It's Up To You How The Program Will Look.(Some Stuff Can Not Be Moved They Are Pre-Set, But Skin Can Be Changed).Still Has:Display?. Playing Now, Next Song and Last Played Song Covers.(Must Have Own Covers In Album Directory) Single, Album (8 Covers), DataBase, Top-10 (New) and Search View.Playing Now Screen with Every 1 Minute BackGround Picture Load (Optional).PlayListLast Fully Play Song PlayListDrag And Drop (With In A Program) With Out Going To PlayListPlus Many More.......
Download plugin
| | | |
| --- | --- | --- |
| October 30, 2003 by Joseph Bejm | 14765 downloads | |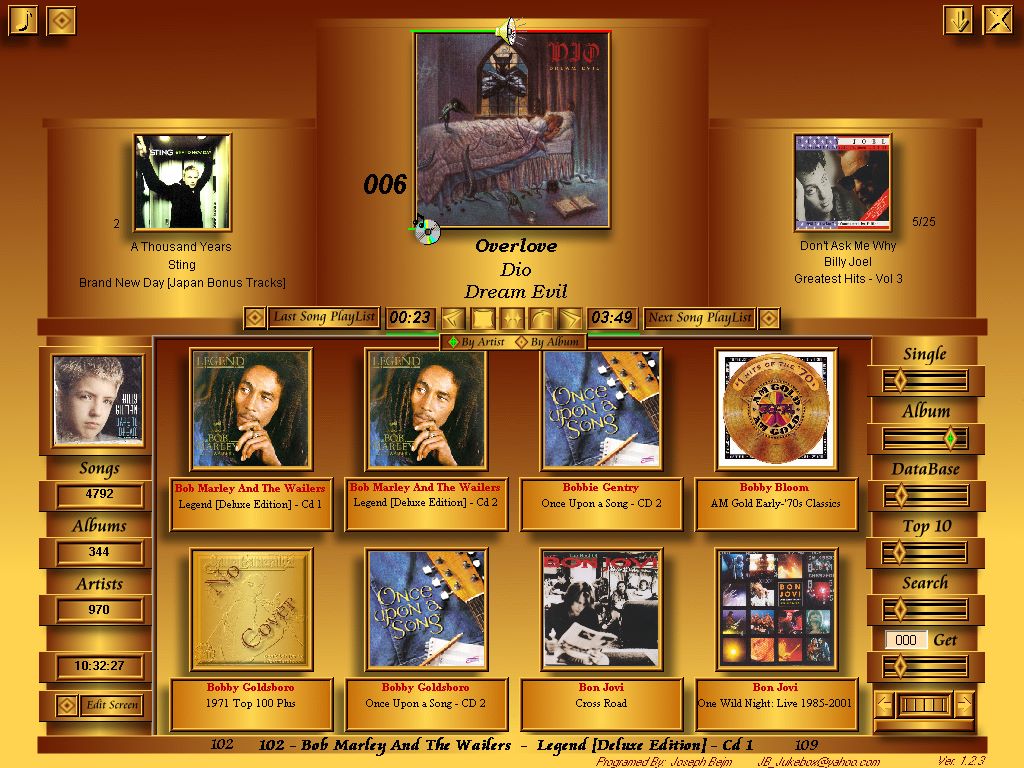 Staff review
Errors out on startup
This installs ok, but, when I try to run the application I get an error message: "Spinwheel: max must not be greather than min." And then: "Run-Time Error 35600, Index out of Bounds." I am running Win2k and Winamp 2.91.
Comments
Error on startup - Well i get an error on startup... i suppose that is becouse its made for winamp 2.. will there be a version for winamp 5? - December 17, 2003 by pontus kindblad
---
Re: Staff Review - Well The Whole Idea Was To Make As A JukeBox That's Why I made it In Full Screen. Maybe At Later Time I will Make an Option so It Would Be Up To The User Which Way They Want To Run. But At This Time I Have To Find More Bugs and be sure that Every One Is Happy. ................And Dunk Fairhurst If you Can Try This New Version And Let Me Know What You Thing ........................... Thanks JB - September 5, 2003 by Joseph Bejm
---