>
Plugins

>
Input
in_sidplay2 1.5.4
Play Commodore C64 music files (SIDs)
Play Commodore C64 music files (SIDs)
This plug-in uses latest versions of libsidplay2 (written by Simon White) and reSID (written by Dag Lem) to emulate C64 sound chip. There is already similar plug-in, but it is buggy, that's why i decided to write new one. Current version 1.5.4 supports: STIL info (available in file info window), song length database (tested with HVSC), seek through song - only with known song length! cpu intensive!, stereo emulation configuration (you can freely choose which voice will play on left and right channel). Subsongs are added automatically as new entries in playlist. Fixed "file info crash" issue. Added some optimizations, relinked with new runtime libs.
Download plugin
| | | |
| --- | --- | --- |
| April 15, 2010 by Zbigniew Ross | 10549 downloads | |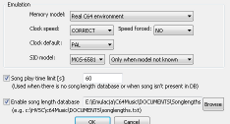 Staff review
SID player
This seemed to play files ok and with it's ability to use the HVSC for song lengths and other information then this is good.Overall i didn't get any crashes and the audio sounded about as i'd expected it to be. Making use of the unified file editor (if only for the alt+3 basic info tab) would be nice as the native version looks a bit out of place. Shows promise.
Comments
2 things, a) seems to not work in windows xp! and b) when i look at the info on the SID files, winamp crashes.however, REALLY love the work.. - April 22, 2010 by [email protected]
---