>
Plugins

>
General
HitMp3
v1.51 Generates mp3 hitlists for songs/albums/artists played on winamp
v1.51 Generates mp3 hitlists for songs/albums/artists played on winamp
Generates mp3 hitlists for songs/albums/artists played on winamp for any given period of time. You can use filters to get hitlists for specific albums or artists, or even the current winamp playlist. The plugin can also create html files and winamp playlists based on the generated hitlist.

NEW IN v1.5

-hitlist loads faster

-skinned hitlist window

-ability to edit database

-ogg tag support

-On Screen Display (OSD)

+ some other features
v1.51 - Fixed it so it doen't require .net libraries to run
Download plugin
| | | |
| --- | --- | --- |
| November 30, 2003 by Yiannis Pericleous | 14270 downloads | |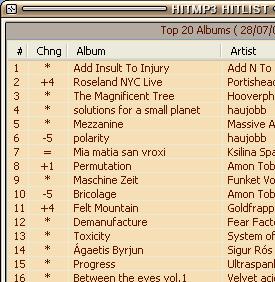 Staff review
Mp3 Hitlist
Generates a list of songs/albums/artists played in Winamp...this can be displayed by day, week, month, year, etc. Also allows you to create html and m3u files.
Comments
1 fix needed X_x - Figured out it doesn't support unicode tags (ain't found one yet that does tho), that's a pitty d:( I'll keep the 5 stars tho, as there haven't been unicode tags back then i think. :f - April 5, 2007 by Abi S.
---
Best in this category - I tried many plug-ins with this purpose, but this one is by far the best of them. Having IF x seconds OR % percent THEN add would have been an additional cherry on the cake however, this one is well worth 5 stars anyway. Good job! d:> - April 4, 2007 by Abi S.
---
Does What It Says - Does what it says it will do, but most of this functionality already exists in the Media Library feature of 2.9/3/5. - January 4, 2004 by Michael Romero
---
Good job - Works as expected. Gotta love the Save as Playlist feature. Works well with CD-Burning. Author has great choice in music. - December 30, 2003 by Jon Kennedy
---
Not the New Version - I love the Version 1.1 and the 1.2 looks like it has some cool features but this is still the old version not the new one. - December 7, 2003 by jon schatz
---