>
Plugins

>
General
Hardwar Controlls 2
Controll Panel, HotKeys, Drag&Drop, Resumer Plugin with Sounds
Controll Panel, HotKeys, Drag&Drop, Resumer Plugin with Sounds
This is a generalplugin for Winamp2. It has a lot of function likeHotkeys : Supports 20 HotKeys and 30 actions;Drag&Drop : Drop files in the conner of the screen and they will be added to the playlist and more;Resumer : Resumer Winamp's previous state and playing posision at startup;Control Panel : It has a neat Panel with usefull Winamp functions;Sounds : Supports sounds for HotKeys , Panel open, Button Clicks etc.If you Download it you will not be sorry.
Download plugin
| | | |
| --- | --- | --- |
| May 1, 2002 by Patras Vlad | 7303 downloads | |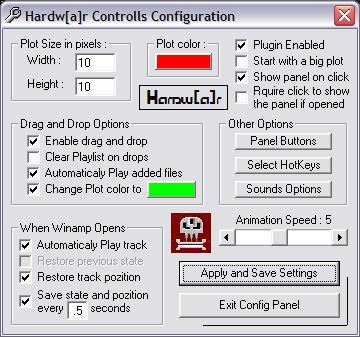 Staff review
New control panel for Winamp
Provides a second control panel for Winamp... performs all the basic Winamp functions such as play, pause, skip track, jump ahead, etc. Also allows for Winamp to resume previous state on startup. Minimizes into the top left hand corner when not in use. The sounds on the panel can be a bit much, but you can both customize them and turn them off altogether. Overall, a fairly configurable plugin that has some useful features.
Comments
Crap - Even if this plugin has some nice features, the red square and the lame sounds playing with ever click (!!) make it utterly useless. - December 23, 2004 by Sire 404
---
Cool little pluggy - I like what it does and also the resume feature, which works correctly. Not one problem using it so far. Try it out! - August 29, 2002 by Tony S
---
Close... - So, I'm a little upset. At first glance, this plugin seems great. 20 hotkeys, plus a bunch of other features like auto-start. However, it has trouble saving the hotkeys, and creates a run-time error everytime. Sadness. - July 1, 2002 by Matt Long
---