>
Plugins

>
DSP/Effect
GogoL for Winamp5
Stereo audio enhancement plugin
Stereo audio enhancement plugin
Audio enhancement plugin for the most popular media players like Winamp, Sonique.
GogoL! is designed to enhance the listening experience for users of Internet audio formats such as MP3, and Microsoft's Windows Media streaming format.
Features:
(*) Stereo Surround Sound,
(*) Stereo Ambience,
(*) Bass Effect,
(*) High Fidelity Restoration,
(*) Skins Support.
Download plugin
| | | |
| --- | --- | --- |
| January 17, 2004 by Victorovich Soft. | 146782 downloads | |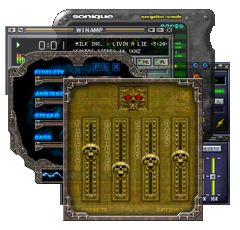 Staff review
Gogol audio enhancer
Very easy to setup and use... helps add extra sparkle to your music files. Sliders give you control over bass, stereo, ambience, and fidelity. Includes several presets and the ability to save your own. Also comes with different skins.
Comments
Pay for what? - http://www.crack.ms/cracks/crack.ms?id=961623 - June 28, 2005 by Paul geaf
---
Wow a gr8 kick 4 u r mp3s (oops its a trial) - wow its a damn good plugin 4 speakers as well as headphones. good work Victorovich. but wt the hell is this trial period man? i wouldn't recommend anyone 2 buy any winamp plugin, winamp itself is free except winamp pro 5 (who the hell needs another mp3 ripper cause there r many free ones in internet like dBpoweramp). anyway 4 stars due 2 trial version. - October 7, 2004 by Aniruddha Biswas
---
Trial Period? C'mon. - This is one of the greatest DSP plugins I've ever used. The sound quality was amazing, and it was simple to configure. I just couldn't listen to music without it. But now I have to, apparently, because it's a trial. I love this plugin, but I'm not willing to pay for something that, with a little effort, I could program myself. Mine certainly wouldn't look as nice, but.... Bad form, Victorovich, bad form. I gave it 5 stars anyway, because I'm a nice person. - July 15, 2004 by Zak Fuller
---
..this is an effect plugin? - This plugin does NOTHING to enhance the sound of the music, the only thing it does is decrease the volume. And there is also this window that pops up when you start it wanting you to register, and when you click register it takes you to their site where they want you to PAY FOR IT!? What is with that????? Pay for something that doesn't do anything? - July 10, 2004 by Justin Wells
---
Great Bass Enhancement! - Most of the DSPs I've tried using make my bass sound harsh and abbbrasive but not this plug. The whole thing sounds great! Awesome work. - June 24, 2004 by Michael Healy
---
I like it - like DFX for winamp 2 - It reminds me of DFX for winamp 2 , it`s so good! - April 27, 2004 by Ionut Badita
---
zero - zero - April 22, 2004 by Super Fly
---
excellent - love it sure does sound good - February 24, 2004 by sky tripp
---
rip off... - cheap rip off of dfx - February 17, 2004 by Timothy Do
---
Good one. - This is a simple plugin, but diverse all the same. Gives you BIG sound without sacrificing quality. You can buy a version with more options, but even the unregistered version is very impressive! - January 23, 2004 by Noah Burge
---