>
Plugins

>
General
FindIt 2.0
Search a big Playlist for keywords and play the searched song, no matter if Winamp is active or not
Search a big Playlist for keywords and play the searched song, no matter if Winamp is active or not
If you wnat to listen to a specific song, press theCtrl Key + the down-arrow (at the same time) and an editfield will apear.Enter one keyword. The IWCS (Intelligent Word Complete System :) ) triesto complete your Input, so that you don't have to type the whole word.Press Enter.Now you' ll see a Listbox within all titles containing the searched keyword(s).Select one, press Enter, and the song should be played.
Download plugin
| | | |
| --- | --- | --- |
| December 18, 1999 by Thorsten Vogel | 35758 downloads | |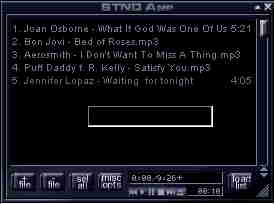 Staff review
Very handy. Great idea. Recommended. The only down side...
is that the editbox just jumps up in the middle of the screen very discretely and seemingly unrelated to Winamp. This is what the author intended, I'm sure, but it would be confusing for novice users.
Comments
AWESOME - this is a great plugin buuutt please make it wor with version 5.24 i need this plugin!! - July 5, 2006 by Riegler Andreas
---
Very useful - Great plugin. fast searching through huge lists, only drawback is that it is a single string search. so if you want to look for a song but can't remember if it's "dancing ON the grave" or "dancing IN the grave" (for example), or know the band but not the whole title, and want to search for "sentenced" & "grave" it won't happen. - August 1, 2003 by Josh Kostelecky
---
There is a better one! - This is good plugin, but it is very old (1999) and very large file too. This encouradged me to write a better one, with more configuration options, less size (58k) and, IMHO, more convinient. Look for QuickSearch! (http://classic.winamp.com/plugins/detail.jhtml?componentId=133865) - July 20, 2003 by Yason Belarus
---
Universal Access, unlike the J function! - Simple yet effective. If you appreciate little tweaks that take a few seconds out of your day, download this file. Impress your friends with yet another fancy keyboard shortcut like alt+f4 or those fancy winxp window key shortcuts. ME LIKE - May 6, 2002 by jeremy roth
---
Effective - Its much easier than going to winamp and pressing j. You think u are so intelligent don't you Jason? - March 5, 2002 by DaSkinner Genius
---
Great! - I'll hafta admit i didn't know about the J button till now, but the deal is with this plugin you don't need to make winamp the current window and you can even have it minimized in order to do a search. This is quite handy for that reason. - December 19, 2001 by Joshua Estes
---
Best plugin ever - want to here a song just hit the hot key and start to type in the name, auto completion finishes hit enter and you have a list of every song with those words in it that easy no waiting no scrolling up and down through your playlist just hotkey and type it in - November 24, 2001 by jon vw
---
The naysayers don't know what they are on about - Yeah, maybe you can press J when Winamp is in the foreground, but it doesn't work when it's in the *background* or minimised. Most proper computer users will run Winamp minimised and this wonderful plugin allow you to select a song without touching the mouse (the most common "slowdown" on computers - keyboard shortcuts rule) Winamp can be anywhere; minimised, background, hidden, on another desktop, on another monitor and this plugin will still work - unlike the J shortcut. Keep up the good work (ie finding niches in software) Thorsten - October 20, 2001 by Bagpuss The Cat
---
no use for this - like everyone else says,,,,just press J. ok...well your program doesnt require winamp to be open.... ok, well you still have to open your program. Takes 2 clicks to open winamp, it takes 2 clicks to open yours. Where's the benefit? - October 5, 2001 by Cameron Miller
---
Awsome! - This is a great piece of software! It makes Winamp so much more powerful and fun to use! Thanks! - May 28, 2001 by Gary Yorkdale
---
you're all idiots.. - in case you haven't figured this out yet, all you have to do is open up the playlist window in winamp, press j on your keyboard, and type in the id3 tag title, artist, or just the filename of the songs.. it works so much better, and it means you don't even have to dowload this.. whatever, i'm going now - May 28, 2001 by botsmaster42 password
---
You can't live without this plugin - This is the best part of my entire colection of Winamp Plugin's, and i would trade them all just for this little box. Anyone with a playlist or playlists they like to listen to that are biger tehn 2 songs, need this plugin. - May 22, 2001 by Brendan O'Leary
---
Sexy - So not in the way.. small.. cute.. colors n font in search field/window can be changed.. thnx for this.. now i can start having my playlist in winamp when i run the radio since i can actually find the song ppl want me to play! before i had to like browse the system folders.. just one thing.. there should be an option like "when doubleclicking a song u searched n found, winamp.... Plays/Enqueues".. please implement it if u understand what i mean.. and see this :) - May 22, 2001 by Alex Palex
---
MAKE MORE!! - what a nice plug! how did i ever live without that friendly little box? write more plugins!! lots!! - April 13, 2001 by god lotus
---