>
Plugins

>
General
Facebook Listening To v1.0
Enables you to update your facebook status to what you are currently listening
Enables you to update your facebook status to what you are currently listening
Updates your facebook status automatically with the current song information in Winamp. Most exciting part is you do not even need to be online in facebook to update your status or publish information.You can keep track of your playlists in your application profile and see your friends music taste also. Please add the application "I am Listening To" before using the plugin.
Download plugin
| | | |
| --- | --- | --- |
| April 7, 2009 by Yuksel Kurtbas | 35857 downloads | |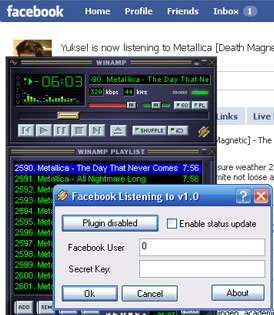 Staff review
Facebook Now Playing
Simple plugin which did what it said and if you want to annoy people on facebook with your musical taste then this is the thing for you.
Comments
Facebook App I am Listening To doesnt work - March 13, 2011 by Ancient_Ones
---
facebook connect bad! >. - December 5, 2010 by spongshga
---
Its An Good Program ppl Just Need To Know How To Work Have To Go On Facebook N Find The App N Get The ID - September 2, 2010 by ykgmj
---
nope not impressed! - March 14, 2010 by ice manx
---
overall i like it. - December 21, 2009 by [email protected]
---
Hmm.. a sta se mora upisati tu gdje pise Facebook User i Secrt Key ? - October 26, 2009 by nfo_ecstasy
---
Dubious at best - Do you really want to trust someone with your username and password by using this plugin? - September 7, 2009 by Aaron Boswell
---
I don't know how to use it !! sorry ! - I don't know how to use it !! sorry ! - August 1, 2009 by George Petrakis
---