>
Plugins

>
General
EZPlaylist
EZPlaylist 1.60 is a MP3/ID3 Tagger, playlist manager
EZPlaylist 1.60 is a MP3/ID3 Tagger, playlist manager
EZPlaylist is a MP3 Tagger, renamer, cataloguer, browser, playlist manager. Export playlist HTML, TXT, CSV, XML...
Download plugin
| | | |
| --- | --- | --- |
| August 27, 2006 by BOYER jeanlouis | 42253 downloads | |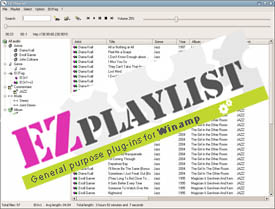 Staff review
Playlist / tag manager
With a mass of different features and options for helping to manage tags/playlists and other things this seems like it would fit those people who need to be exact with their files and how they are managed. Plugin seemed to be stable with no issues experienced during testing.
Comments
Looks like a Foobar in the Winamp to me. If only it can be more integrated, it feels like another program now. - December 8, 2010 by Alvin Chong
---
great playlist manager!!!!! - easy to use, very good to find tracks and to manage yours files!!!!!Mettiuw - November 13, 2008 by Mettiuw C
---
To the point - This plug-in is great it would have taken me weeks to organize my music. i was able to organize my entire collection and rename them in a uniform standard in a couple of hours. - December 6, 2007 by Adam Rahja
---
Good! - A very good plugin; it integartes the best of playlist managing, info displaying, ID3 tags and filename edition and media list creation. Moreover it's in 7 languages. I think only lakes two things:- Support for other common formats: wma, ogg, m4a, aac... etc. - Export files to *.xls sheets; it's easier to organize even after creation. - November 18, 2007 by Csar Augusto Pras Mrquez
---
Great - This is a very very good ID3 Tag editor. Loaded with featuers, including, ID3 from filename, rename file from ID3, mass ID3 change, with useful for changeing, just the genre, or album etc. Lots of options and config, even generates HTML pages of you playlists. has an explorer that works off ID3, and can change winamp playlist from plugin. Only thing missing is mass tag composer. - November 12, 2007 by Jared Hohman
---
Excellent Plugin - User friendly and simple to use. I was able to easily re-name and re-tag 400 mp3 files without any problem. One minor curiosity though, the icons in my task bar changed to an odd looking image of something else (I don't know what I'd call it). Hence, the rating of 4 instead of 5. Other than that, great plugin. - November 12, 2007 by Dave West
---
not that great enough - this plugin runs very very well. Much ID3 editting functionin it. No more 3rd party ID3 editting needed. It wont slow down ur PC.But it has minus, WINAMP plays many audio extensions. Such as .wma, .ogg, .wav,etc .EZ-Playlist cant handle them yet. - October 4, 2007 by ismail akbar
---
the best winamp playlist !!!! - EZplaylist was a long time discontinued. Now is back !!! Super :-) This playlist can see all columns (bitrate,stereo type,kHz,file lenght........) and can ID3 TAGs editing.Now EZplaylist use pretty graphical interface.Quick searching a song titles !Thanks for EZ-Playlist 1.60 !!! - July 12, 2007 by ujo palo
---
Pretty good - Only stability issue seems to be (on my system) that if you disable the tray icons, you cannot open the plugin interface. Right-clicking menu and selecting EZplaylist just opens the media library. Had to reinstall the plugin. - August 30, 2006 by Xib .
---
RADIO KIMPWANZA - La Radio Kimpwanza arrive au moment le plus important de l'histoire de la R?publique D?mocratique Congo... ,cependant notre Radio, la v?tre vient pour faire de ses auditeurs les vrais partisants de paix et de la libert? dans le respect de la personne humaine. - August 29, 2006 by Franck Sando
---