>
Plugins

>
Plugin Skins
Enhancer Skin MAker
Can "convert" winamp skins to enhancer skins
Can "convert" winamp skins to enhancer skins
With this program you can generate an Enhancer skin (tested only on enhancer 0.17) from a Winamp skin.
Download plugin
| | | |
| --- | --- | --- |
| July 15, 2003 by Patras Vlad | 23348 downloads | |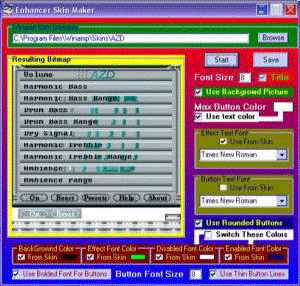 Staff review
Make Enhancer skins
Allows you to take Winamp skins and translate them into Enhancer skins. Comes with a fairly good help file to indicate how to use the program. Although, it would be nice to get a little more information on exactly what Enhancer is and why we would want to make skins for it.
Comments
Enhancer - To the Winamp staff... The enhancer is a great DSP plugin that allows you enhance your sound. Easy to use and IMHO the best sound enhancer ever offerd by this website. introduced October 22 2001 with well over a million downloads I would think this plugin would be hard to forget. Oh and the skin maker is cool too... - February 9, 2006 by ahhwahbe myown
---