>
Plugins

>
DSP/Effect
Electri-Q
Professional EQ for WinAmp and VST
Professional EQ for WinAmp and VST
'Electri-Q' is a simple, intuitive, but powerful minimum phase EQ, which makes it very easy to adjust the magnitude of any audio material. Due to its flexibility, it can be used on every track or even as a mastering equalizer.
The plugin offers two different algorithms. The algorithm 'Analog' was modelled on a transistor based circuit of a real analog EQ. On the other hand 'Digital' is a pure and neutral digital EQ without any coloration. 'Electri-Q' has up to 64 bands and offers several filter types.
Download plugin
| | | |
| --- | --- | --- |
| June 27, 2006 by Christian Budde | 85939 downloads | |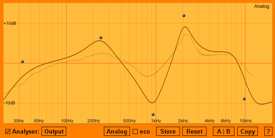 Staff review
I wasn't quite sure on the intuitive claim by the plugin but otherwise this is a well put together system and the help/info documentation is the best i've seen in years.

This is a unregistered version so there are some nag screens but otherwise this is a strong dsp if you're looking for comtrol over your audio output.
Comments
This version plugin is not compatible with the Winamp 5.6. - December 11, 2010 by Ghabrius Klemas
---
Works well but... - Once it's running, this is a very nice EQ. However, the integration with Winamp is not smooth (have to go to the Plugins section of the Options menu, select the plugin and click on configure to make it start).Also, although there is no mention of having to register this, after 2 weeks, the nag screen came on and wouldn't go off (and this one's NOT cheap (100 euros)). The Electri-Q site gives no information about whether or not there's a free version of this for winamp-only use. - November 1, 2008 by David Kowalski
---
FREAKIN` AMAZING! - The best equalizer Plug-In out there. I use this DSP Plug-In together with Dee 2.2 in MuchFX, I have an Audigy SE soundcard and I can say that the music not even on high end audio systems sound better, the quality is simply out of this world, crisp highs with perfectly calibrated mids and a deep powerfull bass. To bad that there are only 5 stars couse it`s a 6 out of 5! - June 24, 2008 by Tibi Ardelean
---
More detailed EQ - This was the reason for me to come winamp site this time. I wanted \'bigger\' eq as the winamp orginal to fix the sound of my speakers.. . . I also had to register to give this review.. and that counts a bit! :D - September 25, 2006 by jim taika
---
Great EQ - The VST version of this EQ is well known amongst producers as one of the best sounding and most versatile EQ's around. It's nice of Christian to make it avaliable as a winamp EQ. You couldnt get much better if at all. - September 23, 2006 by Chase Chase
---
NO FREE!!! - El plugin es muy bueno, pero es un trial y te invita a comprarlo. - July 14, 2006 by Andy Chango
---