>
Plugins

>
General
Dynamic Library
A plugin that lets you browse your files just like in a file browser
A plugin that lets you browse your files just like in a file browser
A plugin which, among other things, let you browse your files like in Explorer but still have access to the power of Winamp close at hand, to make playlists, update broken filepaths, make queries just like to a database etc. And all changes to your media files are instantly reflected in real time!
Download plugin
| | | |
| --- | --- | --- |
| September 6, 2008 by Jonas Sandman | 39047 downloads | |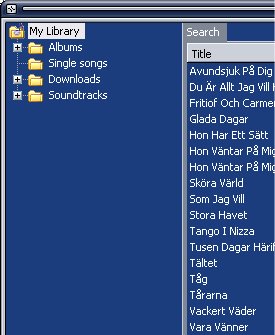 Staff review
Cool Media Browser
After ca 10 minutes of loading a 100GB collection the fun began. Dynamic Library offers a nice Explorer-like treeview of your music folders as well as a search feature similar to the Media Library. Moreover, Dynamic Library 2 features a nicer interface than previous versions but still has a few non-winamp-common colorings. In overall a well done plugin that is worth to be tested!
Comments
not useful for me - I need in the columns additional "Album-Artist" and "Composer" - September 25, 2009 by depono
---
all right - this plug in is in general good, but it is not having the option to recognize .m4a files.so i wont use it - March 16, 2009 by sam h
---
Fantastic - Excactly what i needed!Should be a standard feature in Winamp... - December 10, 2008 by John Ruijs
---
was good, now sucks - ok, where to begin? first of all now it is not free, you should pay 10 dollars for it to function properlyit doesnt has the open from lightning icon option anymoredid i mentioned you must pay for it?so it sucks - December 4, 2008 by aral arar
---
Hint to 2f 2f - You probably did not add any roots (folders to the library).Contact me if you need hints on how to use it, since it obviously works. Maybe you can help me implement better instructions for newbie users.Mail to [email protected] - October 11, 2008 by Jonas Sandman
---
sucks! - What a piece of pointless poop. I installed it, went to the appropriate place in the options/plugins menu, clicked on "configure" to see what this thing could do...nothing. Noticed it had an entry under "view": clicked on it, a box opened saying 0 entries. I put in a simple search term that would surely show up - "no results." Tried to figure out how to get it to scan the library: no direction, no progress indicator, nothing. Except that when I tried to close the window, four times it just froze WinAmp. One of those times, by the way, figuring that it just needed time to get through a large library, I let it sit for half an hour. Came back, tried to work with it...bang: killed WinAmp again. Pointless. - October 4, 2008 by 2f 2f
---
Broken - It Kind OF Good Plugins ExceptIt Broken When I Refresh the dynamic library... - September 8, 2008 by Luqman Azmi
---