>
Plugins

>
General
DMX 512 WinAmp Light Show
Synchronize your DMX 512 Staff with WinAmp
Synchronize your DMX 512 Staff with WinAmp
DMX-512 is the Lighting industry standard protocol to control intelligent lights, smoke machines, strobos, dimmers and more...
Synchronize your DMX-512 lighting staff with your music thanks to this Program and his WinAmp Plug-In Add-on. Built your own Free DMX512 Kristof Nys 64ch. or Manolator 256ch. interface. More info at manolator.place.cc and users.skynet.be/kristofnys/
Enjoy.
Download plugin
| | | |
| --- | --- | --- |
| March 24, 2004 by Manuel Martin | 99807 downloads | |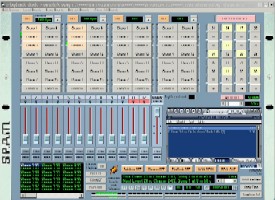 Staff review
Control club lighting/smoke machines
I didn't exactly have a night club handy to test this out with, but, it installs ok and definitely looks extensive and legitimate. If any bugs are encountered, please contact the author.
Comments
Not Without His Hardware TOO - This plug-in only works with the programmer's hardware dongle. He doesn't even make them. He only shows the schematic. Not very useful at all. - October 3, 2008 by David Smith
---
Would be worth it if i wasnt lazy - plugin installs fine...but im WAY to lazy to make the dongle... Chauvet makes a USB dongel that has full 512 interfaces. The software (which is free, but propritary) interfaces with winamp for timeing..so it your willing to drop 200 for a warentee and support, i say go with them...but if your willing to mess around, go ahead and use this... not like theres anything WRONG with it - March 14, 2006 by Alex Walters
---
. - it sounds liike a good idea but for the standard user its overkill - June 20, 2005 by lily lily
---
not bad, not bad. - hey, kewl it works :P I dont have a dance hall to test it either, but it works great when I tested it here at my place. Thanks. - March 27, 2004 by Brad Parker
---